True story: Back in 1996, Metallica visited my small Washington hometown to play a private concert for the winner of an MTV contest. This concert drew thousands of music-lovers to this one little house, a house that could only fit ten to fifteen people. For an hour the band rocked out in this tiny duplex with thousands of screaming fans outside just trying to get a glimpse of their heroes. Thanks to my dumb luck, my then-girlfriend lived directly next to the winner's duplex, which gave me an amazing up-close, front row seat for one of the most exciting events to happen to my little town.
I tell you this because it is just about my only real connection to Metallica. I'm not your typical Metallica fan. While James Hetfield and the gang were selling out stadiums around the world, I was banging my head to a much different beat. My music of choice was Sonic Youth, Nirvana, Pearl Jam and Pavement. I chose flannel over spikes. For this reason I was excited to play through Guitar Hero: Metallica, if only to have a better understanding of the music of this popular heavy metal foursome.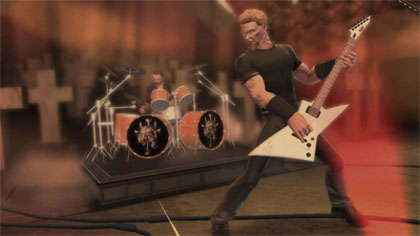 Guitar Hero: Metallica is exactly what it sounds like; it's a disc full of new and old Metallica songs confined to the trappings of Activision's mega-popular Guitar Hero franchise. Like last year's so-so Guitar Hero: Aerosmith, Metallica features around 50 songs, including some of the biggest songs ever played by the Los Angeles-based quartet. Unlike the Aerosmith edition, this Metallica game allows you to play more than just the guitar and bass. This game is based off of Guitar Hero: World Tour, which means that you can add a drummer and singer to the mix at any time. This one change really makes a world of difference, giving me hope that there may be a bright future for these band- specific Guitar Hero installments.
As I said before, the game features a great selection of new and old songs. You get some of their biggest hits, including "Enter Sandman," "Fuel," "Battery," "The Unforgiven," and of course, "For Whom the Bell Tolls." You also get some incredibly old Metallica, such as "Hit the Lights," "Seek & Destroy" and "Whip Lash." Throw in a few newer tracks ("Cyanide," "The Day That Never Comes," and My Apocalypse") and you have a solid line-up of Metallica songs. As somebody with only a passing knowledge of the band's work, it was nice to hear how different each of the different eras are.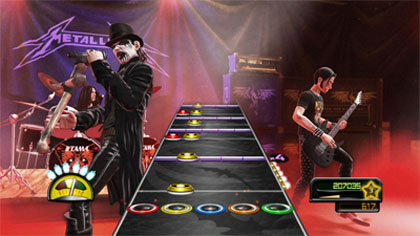 Instead of only focusing on Metallica (as the title suggests), this Guitar Hero game features a mix of songs from other bands, including groups inspired by and friends of Metallica. This list includes everybody from Slayer ("War Ensemble") to Suicidal Tendencies ("War Inside My Head") to Queen ("Stone Cold Crazy") to Thin Lizzy ("The Boys Are Back in Town") and so on. The game included bands that were new to me (Samhain and Michael Schenker Group) and bands I'm more than familiar with (Foo Fighters, Social Distortion, Alice in Chains). If you're a fan of heavy metal and Metallica-flavored rock bands, then Guitar Hero: Metallica may just be a dream come true.
The problem is, I'm just not that into most of these songs. Don't get me wrong, I appreciated being introduced to a great deal interesting Metallica music, but this is not the type of music I would turn on in my spare time. It works fine for people wanting to rock out on some fake plastic instruments, and there's no doubt that Metallica fans will have a great time playing through the medium-sized track list. I, however, wasn't feeling the song selections. Obviously this is a personal preference sort of thing, but I've made it perfectly clear from the get-go that I could take or leave this band. Yes, I had a lot of fun playing the game. However, I suspect that's because I enjoy rocking that fake plastic guitar ... no matter what music is on. It could be a long-lost duet between Milli Vanilli and Right Said Fred remixed by the Rednex, I would still rock that guitar as if my life depended on it.