When Guitar Hero: On Tour was released last June I found that I wasn't a big fan. Despite my interest in the regular-sized versions, this portable Guitar Hero just wasn't doing it for me. It cramped my hand, never felt natural and had a piss-poor selection of songs (many of which were covers). It hasn't even been six months and Activision is back with yet another Nintendo DS guitar simulator, this time called Guitar Hero: On Tour Decades. While they have gone a long way to improve the songs in the game, I would be lying if I said I had a better go of things this time around. The truth is, my opinion of this handheld franchise is largely unchanged, which is to be expected when it's only five months later.
To make this release relevant (and not just the desperate grab for cash that it actually is), Guitar Hero: On Tour Decades decides to mold itself around a theme. The theme they picked is decades, which means that you'll be tackling a few different songs from a series of rocking decades. The end result isn't all that different from your standard mix of rock songs, but I'll hand it to Activision for coming up with a compelling list of songs that in theory are a lot of fun to play. In truth this is nothing more than a full-priced expansion pack, but it has enough good songs to warrant a look if you were a fan of the first game.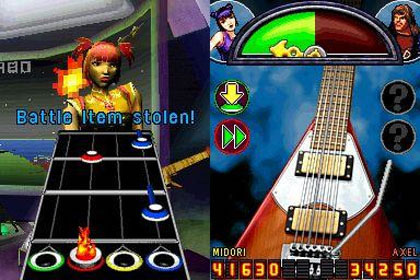 The game starts you out in the "Modern" decade, which means that you'll have the pleasure of playing everything from Paramore's Crushcrushcrush to Dirty Little Secret by All American Rejects. From there you are transported to the 2000s. Wait a minute, wouldn't the 2000s be modern? We aren't even out of the 00s, so how can there be anything more modern than this? They explain this away by having you play slightly dated songs like the Red Hot Chili Pepper's Can't Stop (2003) and Jimmy Eat World's The Middle (2001). Sure those songs are slightly older, but it's not like that All American Rejects song came out long after the Red Hot Chili Pepper's cut. At most there's a two year difference, hardly enough to warrant two different sections.
But I digress, from the 2000s we (predictably) head to the 1990s, where you'll find Blind Melon's No Rain, Stop Temple Pilot's Down and Weezer's Buddy Holly. From there it's just a short jump down to the 1980s, which is where you'll find Bon Jovi's You Give Love A Bad Name, Los Lobos' La Bamba (the cover done for the 1987 movie) and R.E.M.'s The One I Love. And if you can complete all those songs, you'll finally hit the hardest section of them all, the 1970s. In this section we get such classics as One Way or Another by Blondie, Boston's Rock and Roll Band and a live version of Sweet Home Alabama by Lynyrd Skynyrd. All together there are more than two dozen songs, including a couple of bonus tracks that you'll wish were either on Guitar Hero: World Tour or Rock Band 2.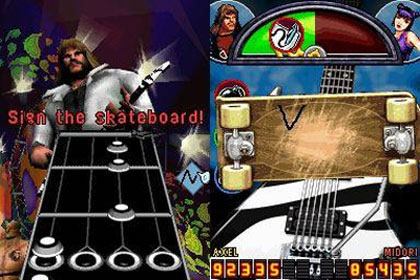 While the track list is solid (light years ahead of what we got five months ago in the original Guitar Hero: on Tour), there was something curious about it that kept nagging me as I played it. It wasn't until I got to the end that I realized that I owned most of these songs in Rock Band. Not necessarily Rock Band 1 or 2, but a combination of the two, as well as the downloadable content I've bought over the last year. Not that there's anything wrong with that, but after counting the songs I found that more than half of the tracks appear in other games ... where they are infinitely more fun to play.
Aside from the game's use of decades, Guitar Hero: On Tour hasn't really changed. Not that you would expect it to go through some magnificent transformation, this "sequel" is coming out mere months after the first game and not trying to reinvent the wheel. At best you get new songs, guitars and venues to play in (each of them based on whatever era you're playing in). But for those like me who had problems with the game the first time around, none of the problems have been addressed in this expansion pack.