I'll admit, there is a part of me that has always resented the idea of video game remakes. While there have certainly been some memorable remakes (Resident Evil on the GameCube, Super Mario All-Stars on the Super NES, etc.), they come with this stigma attached. It's a game like Final Fantasy IV that not only stands tall as a remake, but makes me question my preconceived notions about remakes in general. Remake or not, Final Fantasy IV is easily one of the best games available on the Nintendo DS.
Known as Final Fantasy II in the U.S., Final Fantasy IV was the first 16-bit entry in SquareSoft's long-running franchise. By the fourth game Square had already established many of the cliches, but beyond the expected there was a beautiful story, some of the best characters found in the Final Fantasy universe, and an epic adventure that had just about every human emotion you could muster up. It was a masterpiece, and this game, while not as innovative as the original game was, is definitely one of the best remakes I have ever had the pleasure of reviewing.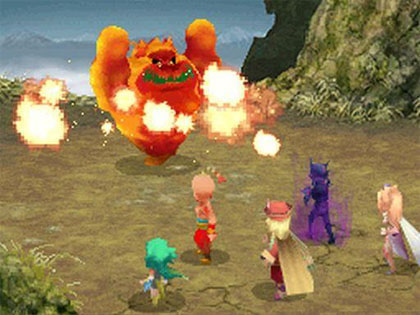 In case you don't remember the story of Final Fantasy IV, you play a Dark Knight soldier who one day realizes that he has become a pawn in what appears to be a dastardly plan. His quest finds him battling huge bosses, taking on old friends, falling in love, becoming a true hero and ultimately traveling to the moon. It would pointless to sit here and rattle on about every plot point; the joy of a game like this is discovering how the story plays out for yourself. Needless to say, the plot remains virtually identical to the original 1991 game.
But don't think that this remake is just playing it safe, because the story is pretty much the only thing that remains the same. Like the Final Fantasy III Nintendo DS remake, Final Fantasy IV offers an entirely new visual style. Now the game is completely in 3D, featuring rich locations, well crafted characters and some amazing looking enemies. Without a doubt this Square Enix game is one of the best looking games I have seen on Nintendo's dual-screened handheld.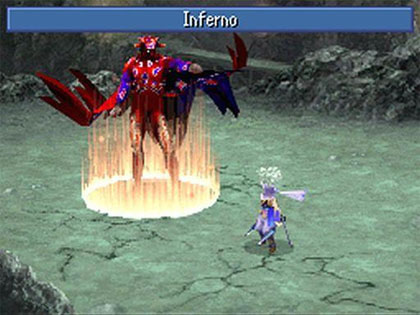 The game's 3D graphics and character models wouldn't make any difference at all if Final Fantasy IV wasn't already a great role-playing game. That was the fatal flaw with Final Fantasy III, the original game wasn't that strong to begin with and it didn't translate well all these years later. But that's not the case with Final Fantasy IV, because it's full of memorable characters, epic boss battles and a winding story that is even better rendered in full 3D.
On top of the brand new graphics and remixed music, Final Fantasy IV also gives you a lot more customization options. Each of the various classes has unique abilities, many of which are the difference between winning and losing a battle. Obviously the class system isn't new to the Final Fantasy universe, but there's a lot more customization in this game than you might expect. Throughout the game you will find these custom abilities called augments. These augments allow you to add different abilities to your character, giving him or her an even better chance defeating those tough monsters. These different abilities really add a lot to the game, especially if you've already gone through the story once or twice before.