SingStar Pop Vol. 2
Sony's hugely popular SingStar franchise is about as critic-proof as a game can possibly get. If you're into singing karaoke and love the bands on this disc, then there's absolutely nothing I can say that will sway you either for or against it. This isn't an ambitious sequel or some much-hyped remake, this is exactly the game you think it is, complete with the same interface, modes, graphics and sound quality. If that's what you're looking for and you know that you love the music it offers, then that should be all the information you need to pick up the game. If you're not into the music, then maybe one of the dozen other SingStar games is more your speed. Either way, my job here is done.
But maybe I shouldn't get too far ahead of myself. Maybe there are a few people who still have no idea what SingStar is. If that explains you, then where have you been the last few years? SingStar is Sony's attempt at the karaoke genre, a sub-genre that is getting more crowded with each passing day. The concept is simple; the game gives you a couple dozen songs to sing and grades you on how well you do.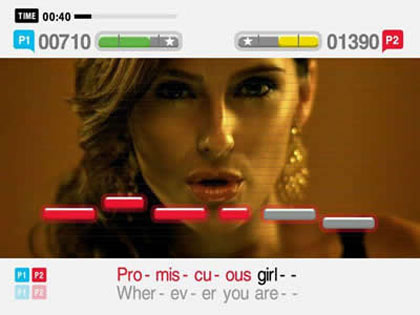 Thankfully the game is more than just words on a blank screen, SingStar also offers you the song's music video in the background ... which is fun for those sitting back and watching and often annoying for those trying to pay attention to the words. Outside of the interface, there really isn't much more to this game. You can either play it by yourself (which is boring) or with a group of friends. In fact, if you buy the SingStar Pop Vol. 2 bundle then you will get two microphones and the game for the same price as a standard PlayStation 2 title.
Of course, it's the music that makes or breaks this kind of game. While I'm familiar with a lot of these songs, they aren't exactly what I would consider my cup of tea. Then again, what are the chances that Sony would release a SingStar game based on Sonic Youth, Pavement and the rest of the No Wave movement from the 1980s? So instead I get 30 tracks that I either don't like or don't know. Apparently this is not the SingStar release for me.
The good news is that the track list is surprisingly diverse, including few band I wouldn't consider "pop". Basically the song list looks a little bit like this: 3 Doors Down - "When I'm Gone," Ashlee Simpson - "Boyfriend," Avril Lavigne - "My Happy Ending," Boys Like Girls - "The Great Escape," Cartel - "Lose It," Colbie Caillat - "Bubbly," Dixie Chicks - Not Ready to Make Nice," Duran Duran - "Ordinary World," Evanescence - "Bring Me to Life," Fall Out Boy - "Thnks Fr Th Mmrs," Fergie - "Big Girls Don't Cry," Gwen Stefani - "The Sweet Escape," Jennifer Lopez - "Jenny From the Block," Lifehouse - "First Time," Lily Allen - "Littlest Things," Lloyd - "Get It Shawty," Maroon 5 - "Makes Me Wonder," Matchbox Twenty - "How Far We've Come," Michelle Branch - "Breathe," Nelly Furtado - "Promiscuous," Norah Jones - "Don't Know Why," Pink - "Who Knew," Peter Bjorn & John - "Young Folks," Plain White T's - "Hey There Delilah," Rihanna - "Umbrella," Santana - "Into the Night," Steriogram - "Walkie Talkie Man," Sum 41 - "Fat Lip," The Hives - "Tick Tick Boom," and The Outfield - "Your Love."