Contrary to the number besides its name, Rock Band 2 is not much of a sequel. At best the game is nothing more than Rock Band 1.5, only going as far as to fix some of the problems people had with the first iteration and adding a bunch of new songs. So if this is the case then why on earth am I about to tell you to pick up Harmonix's newest masterpiece? If this is nothing more than a slight update to the first game then why would I be so willing to give it such a high score? I guess you're going to have to take a break from the drugs, sex, rock n roll and trashing the hotel room long enough to read this conflicted review of Rock Band 2.
If you've never heard of Guitar Hero or Rock Band and have no idea what I'm talking about when I say fake plastic instruments, then I suggest you quickly
read through my review of last year's Rock Band
. There you will learn about the game's three instruments (the guitar, drums and microphone) and their quality. This review is not intended to look at the brand new equipment, mostly because as of this writing the only way to buy this game is to pick up the $60 disc.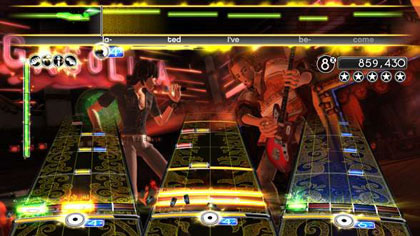 Those of you who played the first Rock Band already know what to expect from this "sequel." It really is more of the same - more songs (84 to be exact), more band challenges and more online support. In effect, Rock Band 2 is everything you've been wanted Harmonix to fix for the last ten months ... only instead of being a free download, it's now a $60 game. The good news is that Harmonix goes out of its way to address all of the biggest problems, even going as far as to add a few new functions that nobody knew they wanted. The result is the most complete and exciting music game of all time, a high water mark that is only marred by the fact that it's not very innovative.
As you would probably expect, the interface in Rock Band 2 has been cleaned up. Gone are the needlessly complicated menus. Gone are the difficulties making characters so that all of your friends can play in one band. Gone are the redundant modes that made little to no sense. All of that has been replaced with a sleek interface that is easy to navigate and understand.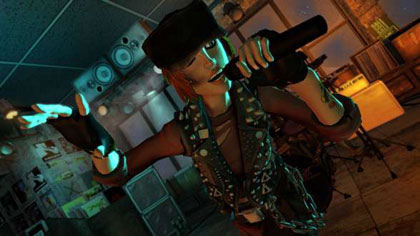 Wait ... what are we doing talking about the game's interface? This is rock n roll; nobody wants to hear about how easy the menus are to navigate. People want to hear about the music! There's no doubt that when it comes to the music, Rock Band 2 delivers. With 84 songs (and another 20 free songs that will be available before year's end), Rock Band 2 definitely has a great line-up of songs. And it's diverse, too. We get classic rockers like Fleetwood Mac ("Go Your Own Way"), AC/DC ("Let There Be Rock"), and Bob Dylan ("Tangled Up in Blue"). We have big haired rockers of the eights, including Ratt ("Round and Round") and Bon Jovi ("Livin' on a Prayer"). We have a solid set of college radio chart toppers, such as Sonic Youth ("Teen Age Riot"), Nirvana ("Drain You") and L7 ("Pretend That We're Dead"). And that's just scratching the surface, the game is jam packed with dozens of artists you'll recognize from all decades and genres. This track list is absolutely massive, a real sight to behold.
With so many songs it is easy for Harmonix to offer a little something for everybody. And not just when it comes to musical tastes, it also allows them to program both easy and hard songs to play on your fake plastic instruments. Unfortunately this means that long time Rock Band users will have to put up with a number of excruciatingly easy songs before getting to the real tricky stuff. On the other hand, Harmonix has addressed the complaints about the easy difficulty of the first game by offering a handful of songs that will require real skills to beat. All in all there's a nice range of difficulties, giving players of all skill levels enough tracks to feel like a real rock star.