There's not a lot of middle ground when it comes to N+; it will either remind you of everything you loved about classic 2D platformers ... or dredge up the nightmares of everything you hate. It's a game that requires near perfect jump controls, a light touch and tons of patience. For some it may just be the most frustrating portable game they will ever experience. But not me, I found it to be the perfect throwback to an era filled with complex jumping puzzles and a difficulty that literally hated you.
For being such a frustrating experience, N+ is surprisingly easy to explain. You play a teeny tiny stick figure who has incredible running and jumping abilities. In each level it's his job to get to a special button to open up the exit. That means that he'll need to traverse the rough environment to trigger that switch and then come back to the exit. Sound simple, well think again. Sure each of the levels takes place in a small room, that doesn't mean you're going to have an easy time getting around the landmines, missile launchers, gunners, flying robots and other obstacles set in your path.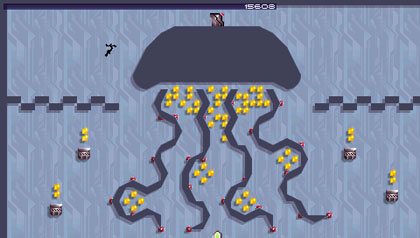 The gimmick of N+ is that you have a remarkable amount of control over your tiny character. Since this game requires pixel-perfect jumps, you'll be thankful that you can bend and turn your little character in the air. A lot of these things you have seen in other 2D platformers, but everything in N+ is exaggerated in a way that gives it its own feeling. Best of all, the controls are super easy to get used to and you'll be jumping, dodging and finding the exits with the best of them in no time. Couple that with extra long jumps, wall climbing and other special moves and you have one of the most versatile platforming heroes around.
The starts you out with only a few levels to choose from, but quickly you'll be opening up new (harder) worlds full of crazy new challenges. You'll never know what you'll get from level to level. On one level you may be dodging missiles being fired at you, while in the very next level you may have to make careful jumps around landmines. And sometimes it's not even the enemies you have to worry about; if you fall from too great of a height you'll die and have to start over.
Thankfully there is no punishment for dying too many times, but you will have to complete each level within a certain amount of time or it's game over. The good news is that you can pick up small yellow dots that add time to the countdown. Even when you die these dots will reappear, which means that you will generally be able to retry the level as many times as you need to without worrying about hitting a "game over" screen. That's not to say that you will always be able to avoid such a screen, some of the later levels are maddeningly difficult and will test your ability to pick up the extra time. But all in all N+ allows you to keep on trying no matter how many times you fail at a level.