When Microsoft first announced that they would be creating an indie game storefront on the Xbox 360, I was initially really excited. But as the clutter started to stack up and quality control went out the window, I, like so many other people, found buying games to be more frustrating than fun. Thankfully, some of the best games to come out of the Xbox Live Indie Games storefront have managed to live on through ports and sequels. That's certainly the case with Bleed 2, the light-hearted sequel to one of the most exciting 2D action games to ever hit the Xbox 360. Now it's on the PlayStation 4 and Xbox One, giving console gamers a second helping of pure, unadulterated run 'n gun excitement.
This is the continuing story of Wryn, a milkshake-loving gamer who was forced to put down her Super NES controller and save the world from the Greatest Heroes of All Time. But don't look now, because there's a mysterious new villain on the scene, and it's up to Wryn to once again leap into action and triple jump her way through seven heart-pounding stages.
If you've played the original, then you'll know what to expect from Bleed 2. This continues the trend of being a fast-paced run 'n gun shooter with no gimmicks or filler. It's the kind of action game that throws you into a level and then immediately starts bombarding you with one boss fight after another.
At its core, Bleed 2 is a mix of Contra and Max Payne. It controls like a side-scrolling dual-stick shooter, but also allows the player to slow down time like it's The Matrix. I like that going into "bullet time" allows Wryn to basically fly through the air as she targets enemies. She's also able to bat bullets and missiles back at the enemies with a well-timed sword swipe, something that becomes a big part of the boss fights, especially if you venture into the harder difficulties.
I love how silly and light-hearted the whole thing is. Even when things are dire and the evil new villain is raining missiles down on the city, there's an adorable dinosaur/flower creature reading the news and reminding you that everything is going to be just fine. The goofy story takes Wryn on an over-the-top adventure that sees us fighting through the bombed out cities, racing down the freeway, riding on missiles and even going deep into outer space.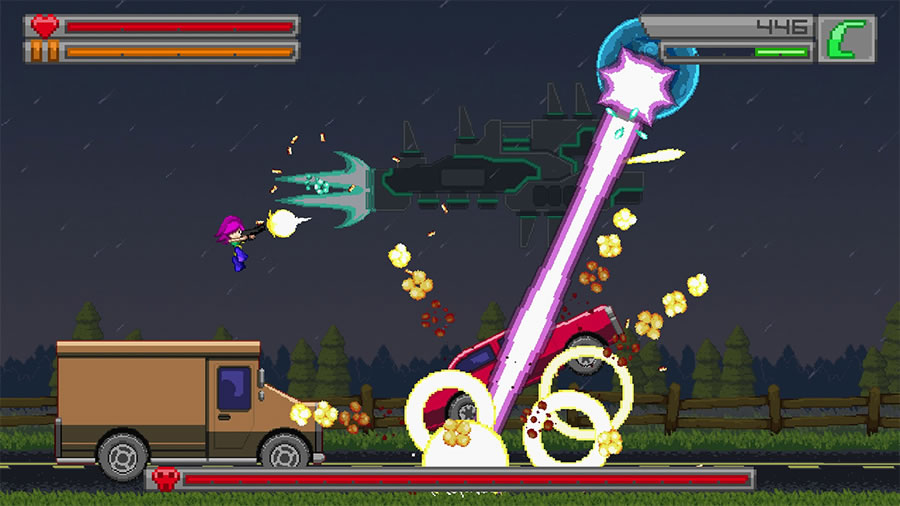 Click For the Full Picture Archive
The problem is that the whole thing is over far too quickly. With only seven short stages, it won't take you more than an hour to shoot your way through every last boss. I know there's a tendency for developers to make their levels longer than they need to be, but the opposite seems to be the case here. I wouldn't have minded a little more filler. The fact that you'll be able to speed through it in a single sitting may make it authentic to the old school arcade games it's aping, but may not make for a great value as a console game.
To be fair to Bleed 2, the game gives you enough incentive to play through the brief campaign more than once. You'll be able to unlock new weapons and playable characters, two things that add a lot of replay to the overall package. There are also a bunch of extra modes, including a boss challenge mode, an extra-tough arcade mode and even an endless mode that keeps dishing up random stages. The game is still a bit too short, but the added characters, weapons and modes go a long way to help.
It may be short and simple, but Bleed 2 is also a whole lot of fun. The way Wryn seemingly flies around the screen is hard to resist, especially once you've mastered the controls. This is a game full of fast-paced stages, massive boss fights and cool characters to unlock. Best of all, it's funny and goofy in all the right ways. What Bleed 2 lacks in length it more than makes up for with intensity.