If you're one of the early adopters of virtual reality, then you already know that the shooting gallery genre is all the rage right now. The online stores are crowded with games that evoke the spirit of the light gun shooters I grew up playing as a kid. But what if you can't afford VR because you only have three dollars in your bank account? Let me introduce you to The Walking Zombie: Dead City, a surprisingly good horror-themed shooting gallery that just made the leap from mobile devices to PC. It may not be as immersive as virtual reality, but at least this budget-priced horror game won't make you sick.
By now you know the spiel: The world we once knew has been overtaken by flesh-eating zombies and our survivors are forced to live out their existence knowing that death could burst through that door at any moment. This is what happens to a couple of survivors at the start of The Walking Zombie: Dead City. When one gets bitten by a walker, the other makes a split-second decision to amputate his legs to keep him from turning into one of them. This works, but forces us to kill hundreds of zombies from a stationary position.
This is actually a pretty solid excuse for why we're locked in place and forced to take on wave after wave of undead monsters. Plainly put, this is a shooting gallery where the mouse takes the place of a light gun. It's a lot like Lethal Enforcers or Virtua Cop, only instead of shooting at criminals that pop up out of nowhere, there are zombies coming at you from all sides.
At less than five dollars, this isn't exactly the deepest game. You'll play through two-hundred bite-sized stages earning money that can be used to buy and upgrade new weapons. You'll end up running into a bunch of nasty boss fights along the way, along with a few bonus stages for extra points. Outside of buying new weapons and equipping a grenade or two, there really isn't much else to this game.
But in the case of The Walking Zombie: Dead City, simplicity is a good thing. Instead of making things more complicated than they need to be, this game puts most of its focus into throwing new types of enemies at you. And it's not just zombies, but also oversized rats, bats and spiders. There are clown zombies, punk zombies, suicide bomber zombies and even zombies that walk on the ceilings. Even without a light gun, the formula is undeniably fun and there's enough content to keep you glued to the screen for several action-packed hours.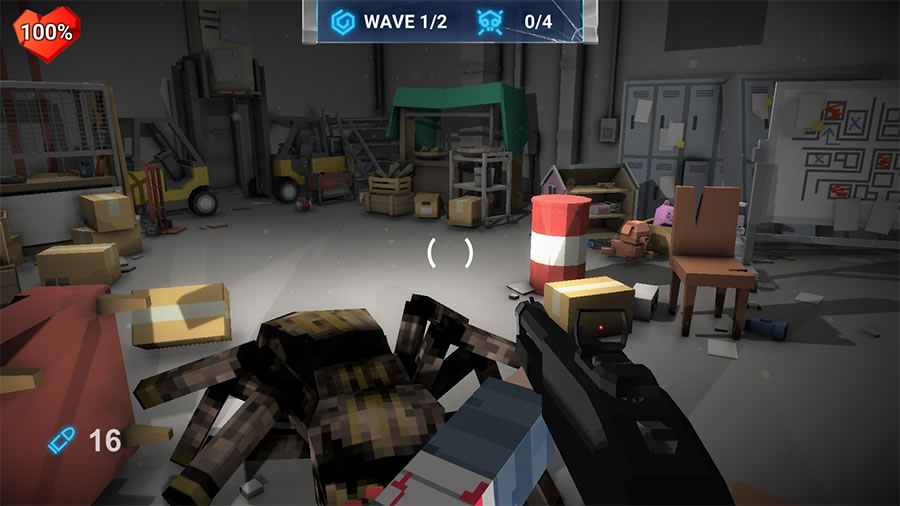 Click For the Full Picture Archive
While the leap from mobile devices to PC has been a relatively smooth one, there are still moments that remind you that this was originally intended for a phone or tablet. For one thing, there are times when the game will flat-out tell you to tap the screen to skip a cinema. The fact that most of the stages last around a minute also feels like a relic from its portable roots. There are other times when you'll need to press a button to reload or throw a grenade, things that could have easily been mapped to the unused right mouse button.
The real problem here is the inherent repetition that comes with this type of shooting gallery. Sure, the game is good about throwing new enemies at you and you're always buying new guns, but all this becomes a bit monotonous after a while. It's also a little too easy. Perhaps it was more challenging on a mobile device, but I found that I had no problem speeding through most of the stages using the mouse. As fun as The Walking Zombie: Dead City can be, it's not the kind of game you'll want to play through in a single sitting.
Although not as flashy as some of the better light gun games of the last twenty years, The Walking Zombie: Dead City proves to be a fun little shooting gallery at an attractive price. I like the variety of enemies, locations and especially the bosses, which are often big and pack a real punch. It's a little too easy and the repetition may get to you during lengthy play sessions, but The Walking Zombie: Dead City is certainly worth three dollars. This was a real surprise.