In order to properly start this review, I first need to introduce you to the Anger Room. This popular New York and Los Angeles attraction works under the theory of "destruction therapy," the idea that you'll relieve stress if you go into a small room and smash everything up. That's basically the conceit behind Infernal Racket, the exciting new platformer where the goal is to race through a bunch of rooms smashing up everything you can find. It's not exactly the year's deepest action games, but I'll admit that it helped to relieve a lot of stress.
Infernal Racket reminds me of all of those old school arcade games where all you did was collect stuff, only instead of picking up items we're destroying everything in sight. You play a little red devil with an axe and a penchant for shattering fragile glassware, breaking prized statues and vandalizing rare paintings. He's trying to track down the Legendary Diamond, a famed collectable that he hopes to one day smash into a million tiny pieces. But it's not going to be an easy ride, because the Spirit of Glass is always waiting for our hero to screw up.
The idea is to enter each room and systematically destroy everything you can find. Once you've broken at least 70% of the items in the room, a door will open up and you can move on to the next stage. You can stick around and try to bash up the remaining pieces, but once the door opens up you'll have to worry about the aforementioned Spirit of Glass. This guy is not only aggressive, but will also kill our hero in a single hit.
Instead of embarking on a standard quest, Infernal Racket will keep throwing random levels at you until you either die or beat the game. There are 200 hand-crafted stages to play through, including some with weird gravity quirks and fun themes. It's designed to be played in short bursts, and the randomization helps to make each playthrough feel a little different. That said, you'll certainly run into a lot of the same basic ideas repeated from level to level and the breakable objects are always the same. The variety only goes so far.
The good news is that our ruinous hero will level up as the destruction mounts, allowing us to unlock powerful upgrades that will help the little devil make it further into the chaos. Every time you level up you will choose one of three randomly selected upgrades. This can include adding a couple extra hearts to the life bar, giving our hero extra strength, making him faster and even giving him life after death. There are only ten of these power-ups so you'll see the same ones in pretty much every run, but they are still a welcome addition.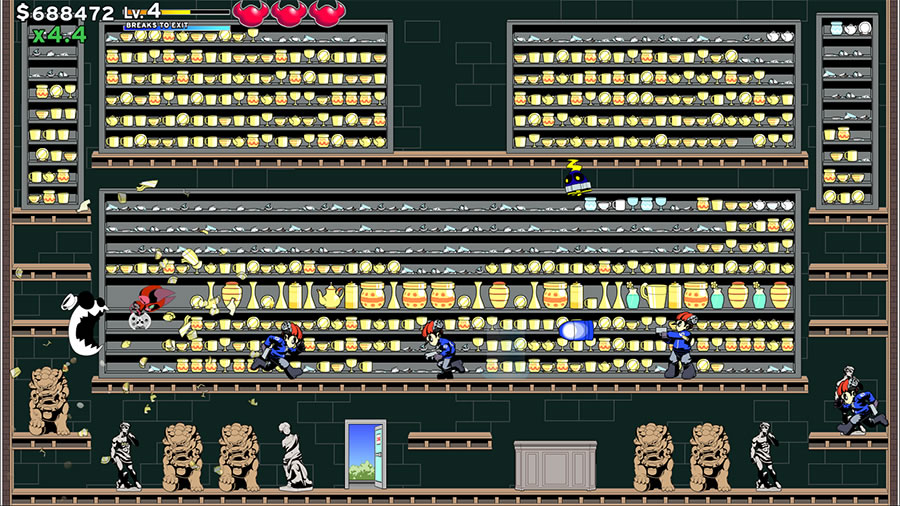 Click For the Full Picture Archive
There's a simplicity here that definitely works in the game's favor. Just like the quarter-munching arcade cabinets that inspired it, Infernal Racket is easy to pick up and play and requires almost no directions. You don't even have to press a button to attack, all that is done for you simply by moving. The only thing you need to worry about is bashing up fine china and jumping out of the way to avoid enemy fire. This would have fit in perfectly next to Donkey Kong, Rampage and Flicky.
As much as I love this simple arcade approach, part of me wishes it was a little deeper. Even if it was just a matter of changing up the backgrounds or adding weird filters from time to time, there needs to be more variety. You probably won't notice this when you're playing in short bursts, but the repetition started to get to me after extended visits. Game Soup has tapped into an addictive concept, but I'm not sure they've done enough with it to keep me coming back to Infernal Racket. I guess we'll see.
Infernal Racket has one of those themes you can't help but love. There's something cathartic about running around and destroying millions of dollars' worth of fine china, priceless sculptures, ancient gemstones, ornate chandeliers and more. Unfortunately, it's a bit on the shallow side and could use a little more variety, but fans of old school arcade games will get a kick out of the debut release from Game Soup.