I'm not entirely sure what my reaction was when I first downloaded Pinball FX2 back in 2010, but I suspect I probably thought it would be a fun diversion that I would play a few times and then quickly forget. But here we are, seven years later, and Zen Studios has given us tables based on Star Wars, Family Guy, Alien, Doom, Portal, The Walking Dead and all kinds of Marvel superheroes. What I thought would be a silly time-waster turned out to be an addiction that ended with me spending hundreds of hours chasing high scores across a wide variety of awesome tables. Now we have Pinball FX3, a free download that improves on its predecessor in pretty much every way, and I can already feel the addiction coming back.
This is going to be a review of not only the Pinball FX3 hub, but also the brand new Universal Classics Pinball pack. In my opinion, this is the perfect way to reintroduce people to the spirit of Zen's brand of pinball tables. We get boards based on three of the most popular summer movies of all time, including Back to the Future, Jaws and E.T.: The Extra-Terrestrial. These are three iconic films that are rife with material to pull from, and long-time fans of the films won't be disappointed by all the nods and references.
But before we help E.T. phone home and Marty get back to 1985, let's spend a moment going over what Pinball FX3 actually is. Much like the older games, this is little more than a free hub where you can purchase tables and compare high scores. What I like is that a good chunk of the tables from Pinball FX2 can be imported into this new game, which meant that I already had a couple dozen tables to play even before downloading the Universal Classics pack. All of your favorite Star Wars, Marvel and Bethesda tables make the leap forward, and it's nice to see some organization brought to the menus.
Beyond the sleek new interface, Pinball FX3 also adds quite a few new modes and enhancements that go a long way to improve both new and old tables. For example, there are now upgrades and special powers you can unlock in order to help you earn even higher scores. There's a way to slow down time, earn bonuses for trick shots and even the option to rewind a big mistake, all of which can be leveled up as you play the game and earn experience points. For those who aren't as sold on adding modifiers, don't worry, there's a classic mode that ditches all of that nonsense.
Another new addition is the Challenge mode, which will have you earning stars based on performing certain tasks. One of the challenges will have you trying to earn as many points as possible in one minute, while another will have you fighting against the clock in the survival mode. These are a lot of fun and will breathe new life into some of the older tables, but I wish there was more variety to the challenges. It's a shame that we get the same three missions on every table.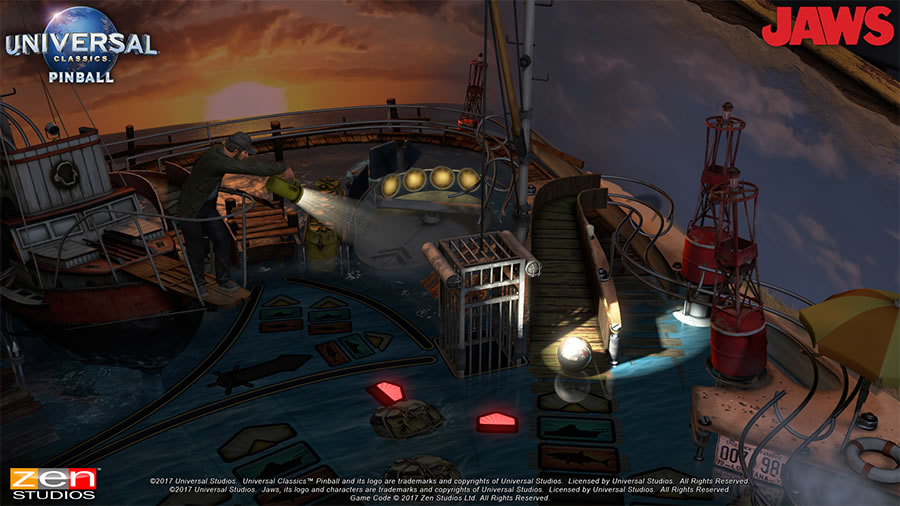 Click For the Full Picture Archive
Instead of making big, sweeping changes to the core mechanics, Pinball FX3 largely focuses on improving the key components. This sequel goes a long way to make the game more social by improving the league play and adding a never-ending stream of user-created tournaments to play. We also have multiplayer match-up, as well as all of those single-player modes. It may not reinvent the wheel, but Pinball FX3 does funnel everything they've learned over the last seven years into one sleek package.
You can see some of this experience in the game's first pack -- Universal Classics. We're treated to recreations of three classic films that broke box office records and influenced an entire generation of filmmakers. Of the three, I like the Back to the Future table the most. It does an excellent job of mashing the entire trilogy into one epic table filled with lightning, hoverboards, gunslingers and even those sprites from the arcade game in Back to the Future Part II. There's a lot of great fan-service here, and I love how easy it is to earn points and complete missions. This is the table I kept coming back to time and time again.
On the other hand, the Jaws table was a bit of a letdown. I like the look of the board and how the shark is roaming around in both the back and foreground, but the table felt claustrophobic and I found it difficult to get a rhythm going. It does get the details right, which is something I can say about this entire pack. There are a lot of great nods to the film, and I like the way it incorporates the boat and water into the action. Instead of chasing high scores, all this table did was made me want to revisit the movie.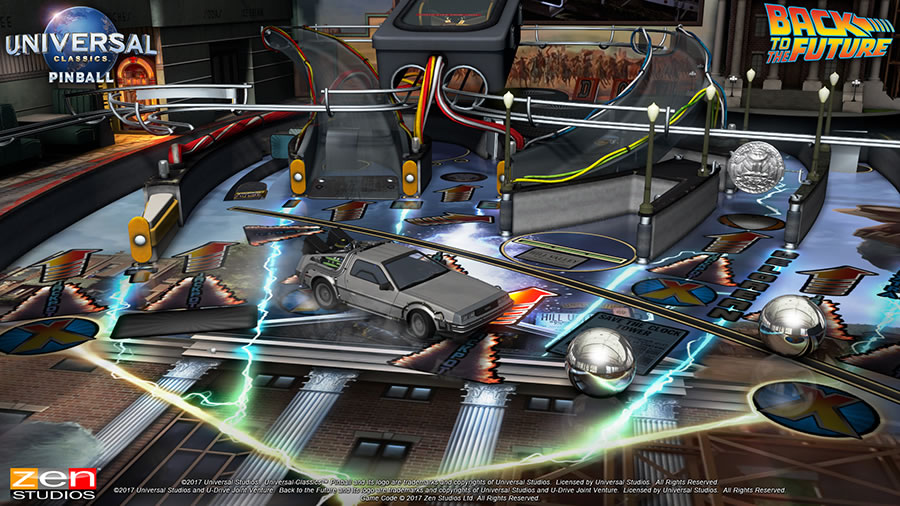 Click For the Full Picture Archive
The E.T. table doesn't hit the highs of Back to the Future, but it does come close. I like the design, which splits the table between the forest and the inside of a house. We see the little alien pick up candy and save the ball through some sort of Force power. It's all very charming, but also fun. There's a surprising amount to do on this table, which is one of the reasons why I kept coming back. My only complaint is that some of the mini-games are a bit unruly, but I appreciate the effort. Overall, this is a great pack.
Pinball FX3 may not make sweeping changes to the core mechanics, but the improvements are important and substantial. We're given a better interface, improved tournaments, far more single-player modes and even a bunch of power-ups. All this is made even sweeter with the Universal Classics pack, a fun and diverse collection of tables that pull from some of the most iconic movies of all time. This is a great start to what I hope will be another long generation of Pinball FX.