Nobody saw the controversy coming. If you go back and read old issues of Electronic Gaming Monthly and GamePro, their editors had a wide range of opinions about Night Trap. Some called it the next-generation of gaming, while others complained that it was little more than an interactive movie. The two sides went back and forth, never even once considering it controversial. But what came next was a firestorm that led to congressional hearings, the game getting pulled from store shelves and the rating system we know today. In less than a year, Night Trap went from being a relatively obscure Sega CD launch title to the most dangerous game on the planet. As far as I'm concerned, any game carrying that much history deserves a killer collector's edition, and that's exactly what you get in Night Trap: 25th Anniversary Edition.
For those who missed out on the 16-bit fun of the early 1990s, Night Trap was one of several CD games pushing grainy, low-res full-motion video. While it wasn't as interactive as what we were used to, this type of game felt like a massive leap forward from the usual tiny sprites that populated the Genesis and Super NES. It gave us a chance to look at real actors delivering actual performances, something that seemed unheard of in an era full of cutesy mascot games.
In this case, we followed an undercover S.C.A.T. member played by Diff'rent Strokes actress Dana Plato. Her job is to infiltrate the Martin's creepy house while trying to blend in with a pack of teenage girls. The good news is that she's not alone, and that's where you come in. It's our job to man the surveillance feeds to keep tabs on the girls and trap the many vampires looking to suck their blood.
Oh, did I not mention that this is a vampire game? What at first looks like the start of a softcore porn on Cinemax turns out to become a cheesy 1980s horror film, and it's up to us to trap every last one of the vampires before they have a chance to feed. You do this by watching the right camera feed and waiting for the vampires to walk over one of the many traps. You'll know when to hammer the button, because there's a little icon that will go from green to yellow to red. You only have a second to trap the vamp, so it's always a tense game of finding the right room and making sure you hit the button in time.
As a teenager, I remember being impressed by the full-motion video and story, but let down by the gameplay. It always felt like the game wanted you to memorize the schedule, and it kind of bugged me that I was always being pulled away from the more interesting story bits. Couple this with the slow performance and grainy visuals and Night Trap always felt like an interesting novelty more than a must-own game.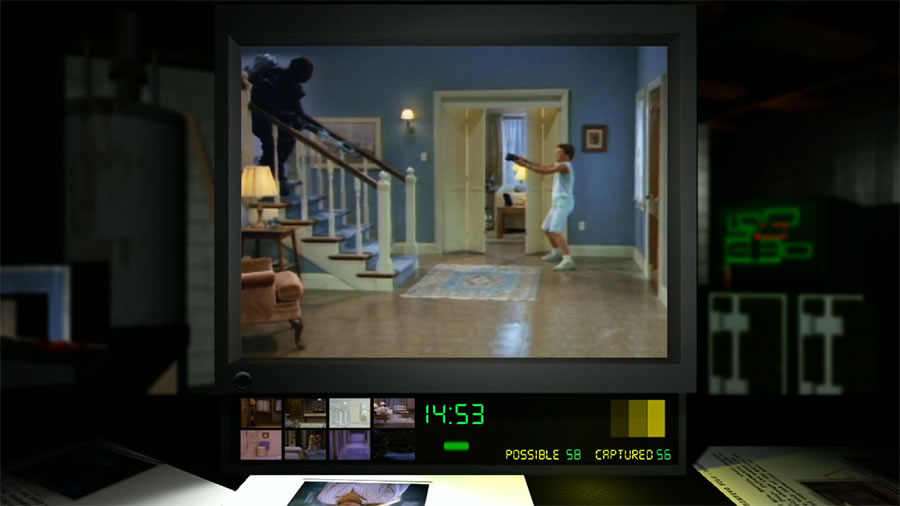 Click For the Full Picture Archive
But a funny thing happened when I played through this 25th Anniversary Edition -- I actually found myself liking Night Trap more in 2017 than I did in 1992. Yes, the game still has the clunky writing, bad effects and a few too many recycled traps, but it's also endearing and full of charm. I think there are a lot of fun performances in this half-hour horror film, and I am of the mind that the song and dance number is simply irresistible.
I don't think I fully appreciated how ambitious this game was at the time. It's not just that Night Trap offered full-motion video, but rather that there are multiple things happening in the house at all times. You can completely miss a crucial conversation because you're off watching the girls get ready for the slumber party or following the goofy next-door neighbor. This brand new remaster makes the multiple feeds even more obvious, since it shows the actual live stream and not just an icon. This both makes it easier to follow the characters as they travel throughout the house and gives us a chance to see when the vampires start to attack. There are also some subtle branching paths and several different endings that will make you want to go through the game multiple times.
What impressed me the most wasn't the upgraded graphics or the better interface, but rather the generous helping of bonus content that comes with this anniversary package. Now we're able to watch all of the story-related moments, dig through the production images and unravel the convoluted timeline. More importantly, it comes with a documentary detailing the controversy and political fight, which includes some rare footage and a fun glimpse behind the scenes. There's also an incredibly interesting interview with the writer, director and co-creator of Night Trap, where he digs into a surprising amount of detail. It's not a fluff piece, and he digs down into the business and development side of things and comes up with a lot of information that was new to me. These are the types of bonus features I want to see in all video game re-releases going forward.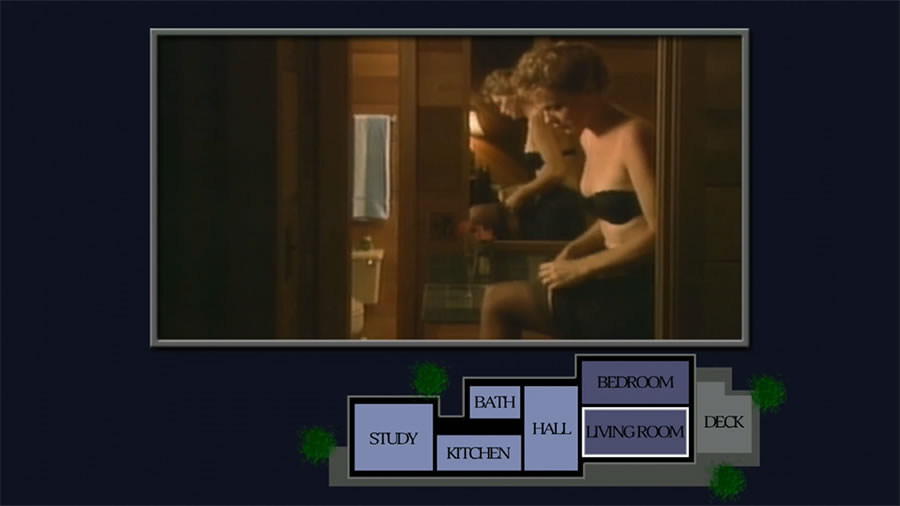 Click For the Full Picture Archive
It's also worth mentioning that Night Trap: 25th Anniversary Edition comes with the year's best unlockable extra. Forget earning new characters and extra clothes, because what we have here is a game inside a game. If you're able to trap all 100 vampires, you'll unlock the developer's very first game -- Scene of the Crime. This was an early prototype of the idea, allowing us to jump around from room to room watching different characters try to plot a way to steal the money and jewelry. It's not as interactive as Night Trap, but the story is great and the acting is appropriately silly. Between this bonus game, the interviews and the documentary, there's a case to be made that the extras are better than Night Trap.
With incredible bonus features, upgraded graphics and an easier to use interface, Night Trap: 25th Anniversary Edition is the ultimate version of the game. While some may question full-motion video's place in history, this package makes a strong case for why Night Trap (and the genre in general) was important. Best of all, the many enhancements actually made me enjoy the game more than I did a quarter century ago. This is the perfect way to honor one of gaming's most misunderstood classics.