I don't know if you've ever been to one of those writing seminars they hold in hotel convention rooms, but one of the rules they try to hammer into your head is to not rely on a narrator. While that may be sage advice for budding filmmakers, I'll be the first to admit that I'm a big fan of voice-over narration in video games. It's one of the main reasons why the experience of Bastion has stuck with me after all these years and, as far as I'm concerned, it's a trend I want to see more game developers incorporate into their stories. But there's a wrong way to do narration, and today we're looking at a game that should be a cautionary tale to anybody looking to spice things up with this type of on-running commentary.
For a straight-forward action game, Icey is a little hard to explain. In short, this is the story of a skilled fighter who wakes up with a single mission on her mind: Race through the remains of the world in order to find and kill an evil tyrant that goes by the name Judas. But it's not quite as simple as it sounds, because there's a chance we're actually controlling a game inside of a game, and there's somebody in the outside world desperately hoping to get our attention.
Putting aside the way the story is told for just a moment, what we have here is a combo-fueled beat-em-up that takes the fast-paced action of Devil May Cry and God of War, and mixes it with the fun and exploration of a side-scrolling Metroidvania game. This is the kind of game where you actually look forward to getting locked in a room with a bunch of bad guys, because our sword-wielding hero Icey has a staggering amount of attacks she can unleash, as well as dramatic finishing moves that will make you feel like a badass each and every time.
This is a game that makes a lot of smart decisions right from the very start. For example, we're given a dash move early on that will allow Icey to literally glide through the air for as long as she wants. This is both a great way to fly up to hard to reach ledges, as well as just get around from room to room. Icey is a dream to control, both when she's exploring the surroundings and getting into massive brawls with robots. This is one of the best playing beat-em-ups of the year.
What sets this game apart is the way Icey tells the story. This is one of those games where there's a narrator constantly telling you what's going on. He'll chime in when you enter a new area, guide you to the next objective and remind you that the mission is to defeat Judas. He'll also tell you to follow the arrows. A lot. In fact, there are times when that's all he would do.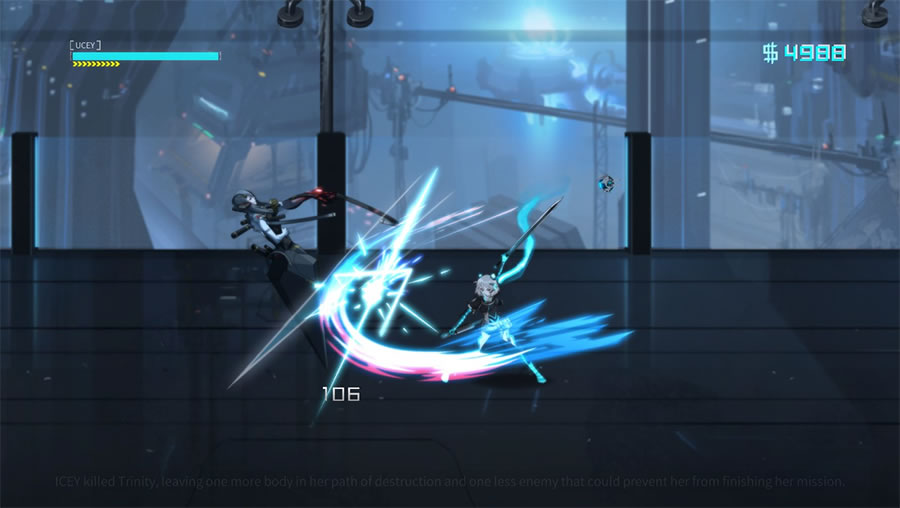 Click For the Full Picture Archive
On one hand, there's a straight-forward story here where you follow directions and kill Judas. But it's the moment you start thinking for yourself that the game opens up. Disobeying orders will not only frustrate the vocal narrator, but it will allow Icey to uncover valuable information that will reveal the truth. The more you veer off course and make discoveries, the more compelling Icey becomes.
This is a game about perception, and I love the way the game toys with that theme in both subtle and obvious ways. You'll end up revisiting the same locations over and over, and sometimes it will be as if you're stuck in an old arcade cabinet from the 1980s. The game plays with your expectations, even going as far as to pretend to crash and then not start up properly. Hell, you don't even have to start the game if you don't want to. If you don't hold the triangle button to wake Icey up, the poor narrator will start rambling on about Inception before eventually restarting the executable.
I love how meta all this is. Sure, there are a few too many pop culture references for my liking, but I like the way it tears apart convention and goads you into following directions. And because of the way the story is laid out, I found that I actually had more fun going through it a second time and purposely disobeying the narrator's wishes. There's really a lot to find under the surface, and I think the game ends up making a profound point.
Click For the Full Picture Archive
There's just one problem: I can't stand the narrator. Don't get me wrong, I love him in theory. There are times when his commentary actually adds a lot of value to each situation, and I certainly wouldn't want to play without him around. But they chose the wrong guy, and it ends up making moments that should feel powerful come across as silly and inconsequential. This is both in the writing and his delivery, which is often flat and emotionless.
What this game needed was a serious actor with a deep, booming voice to give the story the gravity it deserves. That's one of the things Bastion got right, and it's a lesson every game developer should learn. I don't care how clever the writing is or what it adds to the story, it can all be undone if you sit the wrong guy in front of the microphone. The problem here is that the narrator is either stating the obvious, not landing the joke, or both. And no, it doesn't help that he's listed as "The Brilliant Leeroy Rogers" in the credits.
If you can get beyond the bland narrator, you'll discover an inventive beat-em-up that is definitely more than meets the eye. Forget following orders, because Icey is at its best when you're left to your own devices and veering wildly off course. With dozens of moves and combos to pull off, this is easily one of the best handling brawlers I've played this year. Just about the only thing missing from this game is better voice acting.