A funny thing happened when I sat down to play Infinite Minigolf. I went in expecting to putt a couple holes and waste a few minutes; just enough time to get a taste while I decided what game I should devote the rest of the night to. But here's the thing, when I finally got around to turning my head away from the TV, six hours had disappeared and the sun was nowhere in sight. Guys, I think I might be addicted to Infinite Minigolf.
The fact is that I should have seen this coming. I'm already a huge fan of the genre and love the imaginative course designs that come out of miniature golf, so all it would take to hook me is a never-ending supply of user-created stages, a bunch of challenges to complete and maybe a leveling-up system where you earn new clothes and accessories to customize your golfer. And as it turns out, that's exactly what Zen Studios has done with Infinite Minigolf, a putt-putter I had a hard time putting down.
The premise is as simple as it sounds. You create a character and then jump into an infinite mix of courses. Once you complete that hole, you'll quickly get pushed into another, and another, and another. In fact, you'll just keep getting fed new stages until either your controller dies or somebody forces you to stop playing. And as long as the fans of the game are constructing new courses, you'll always have something new to tackle.
What makes this game so addictive is that there are a wide variety of missions to complete. The game will want you to make a certain amount of holes-in-one, collect a bunch of purple gems, make long putts and even buy different types of items in the shop. Completing these tasks is how you earn money and level up the character, which in turn will unlock even more clothing and accessories to collect.
There's just something about these challenges I couldn't get enough of. Even when they were constantly repeating, I still wanted to jump back in and hammer the tasks out for a few thousand extra coins. Couple this with a never-ending barrage of cool stages to play and you have a game that is genuinely hard to put down.
It helps that the courses are spread out across three radically different backdrops. We start out in the Giant Home, where we are the size of an action figure and playing on the floor of a kid's room. There's also the Nightmare Mansion, which has us putting around a lot of spooky Halloween-themed obstacles. And let's not forget about Santa's Factory, where we travel to the North Pole to putt on ice and team up with the reindeer. I like that each of these three locations not only has a defined look, but also offer their own unique obstacles to overcome.
Click For the Full Picture Archive
As simple as the concept is, there's quite a bit creators can do when constructing courses. For one thing, there are a handful of power-ups that can be incorporated into the different stages. These include everything from a magnet that will draw you into the hole, a slow-down item that gives players full control over the ball, a power-up that can be used to jump and even one that will make your ball really big. I can't wait to see how people use these power-ups when coming up with their bigger and better level designs.
Speaking of which, I was pleasantly surprised by how easy it was to construct a course. You'll find a nice variety of tiles and obstacles to choose from, as well as a lot of ways to turn a relatively basic design into a complicated masterpiece. There's a shocking amount of depth here and I can imagine expert course builders coming up with some insane holes. Personally, I'm more interested in playing than building, but I love the amount of detail there is in this mode.
What I don't love are the characters. Don't go in expecting a fully customizable character creator, because that's definitely not what we get in Infinite Minigolf. You basically get to choose between a couple male and female characters, all of which look like they were pulled directly off the set of a bad Disney Channel sitcom. You can choose between a couple different races, but there isn't much variety here. There are no older characters or fat golfers, just a couple tweens taking selfies and making me feel a thousand years old. What this game needs is a bigger roster.
It also needs a way to filter out some of the terrible user-created content. For every expertly constructed level, there are three or four holes that are little more than a single tile. Or you'll run into the stage where it's nothing but power-ups, created just for those looking to complete missions. There were definitely times when I found myself skipping more holes than I was playing, which will hopefully get ironed out as more content gets shared.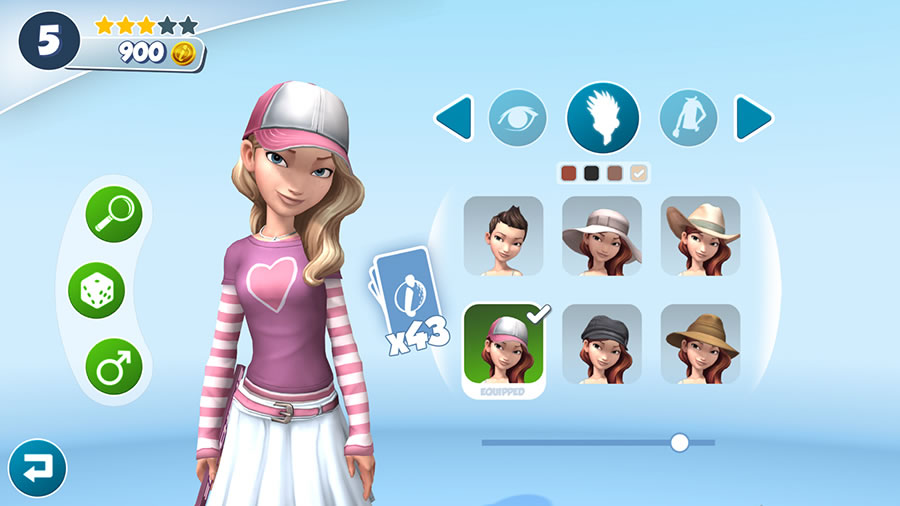 Click For the Full Picture Archive
There are a few other nitpicks worth talking about, such as the way the game insists on repeating the same few missions. If I'm going to spend hours addicted to this thing, it would be nice to see a little more variety in the tasks. I also wish there were more than three locations. For as much as I enjoyed playing these different backdrops, I couldn't stop thinking about the future of Infinite Minigolf. Is this all we get, or are we destined for years of much-better stages sold as DLC? Either way, there's certainly enough content in what I played to be worth the money.
Infinite Minigolf is yet another addictive time-waster from the people that brought you Zen Pinball. It's the kind of game where you'll lose an entire afternoon if you aren't careful. And while I would have liked more character options and fewer terrible courses, I'll be the first to admit that this over-the-top miniature golf simulator sucked me in and wouldn't let go. Infinite Minigolf is hard to put down.