First there was the jump, a helpful move that let Mario avoid Donkey Kong's barrels. From there we went straight to the double jump, the gravity defying trick you see in a lot of platformers. And then came the triple jump, for those moments when two isn't good enough. If you're the type of person who thinks the triple jump is a little excessive, then wait until you get a load of Unbox: Newbie's Adventure. This is a brand new 3D mascot game that skips right past the double and triple jumps, giving our unlikely hero the ability to leap through the air a total of seven times. It's innovation at its finest.
Okay, so maybe the septuple jump isn't going to revolutionize video gaming, but it does help to set Unbox apart from all the other platformers released this year. Of course, the fact that every character in this world is nothing more than a painted cardboard box also helps it stand out. But who's keeping track?
This is a story set in the not-too-distant future when a giant courier delivery service named GPS has invented living boxes that can deliver themselves. Newbie is the company's most impressive creation yet, and GPS plans on putting him through a number of tests to prove that he's worthy of being a sentient, self-delivering package.
Newbie's Adventure plays out like a lot of other 3D platformers. The idea is to collect stamps by helping the other boxes on the various test islands. This sends our six-sided hero tumbling through a bunch of challenge missions that will see him collecting items, racing the clock, shooting at other boxes and completing all kinds of difficult platforming puzzles. Once you've collected enough stamps, you'll go box-to-box with Boss Wild, a fierce competitor that is bigger, tougher and able to pilot a helicopter.
The game is split up into a few test islands, which includes a tropical setting next to a coastal village, a snowy mountain with all kinds of skiing options, and a jungle setting that seems to be modeled off of Jurassic Park. These islands are surprisingly large and overflowing of out-of-the-way areas filled with hidden items and stamps. A lot of care has been put into constructing the world of Unbox, and the island designs are by far the best thing about this game.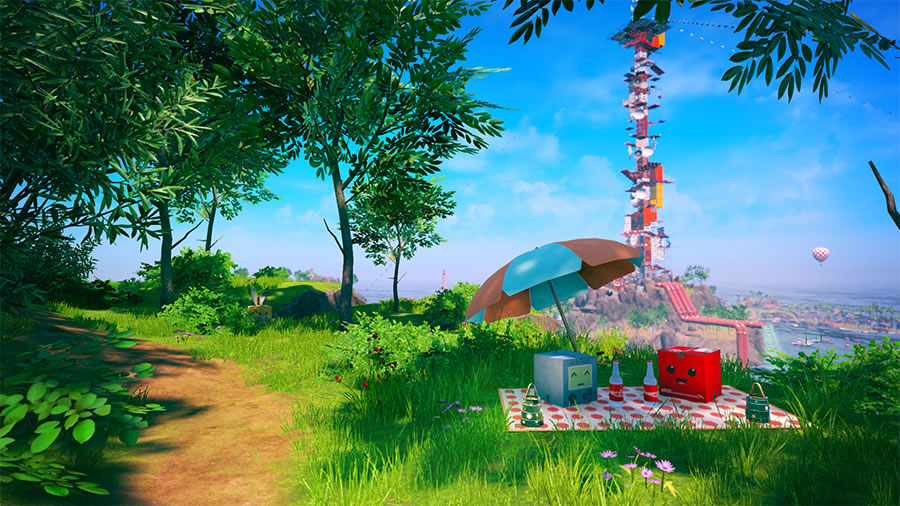 Click For the Full Picture Archive
I also really like the way you can customize Newbie with new designs and accessories. A lot of this game boils down to finding and collecting items that can be attached to the box to add personality. There's a nice variety here, from cute to scary to holiday themed.
If you can't tell by now, this is a goofy concept with a whole bunch of charm. This boxy world is teaming with personality and I got a kick out of the pop culture puns and parodies. Unfortunately, charm and personality will only get you so far, because Unbox: Newbie's Adventure is kind of a mess from both a gameplay and performance standpoint.
The first problem is that our little hero doesn't control like most 3D mascot characters. Instead of running around, Newbie flops from side to side like a box. This is silly and charming at first, but also incredibly frustrating when platforming through the challenges. This is a genre where precise gameplay is a must, yet I never felt fully in control over my box. He's a little too fast, not agile enough, easily pushed off course and has a bad tendency of getting hung up on the edges of the environment. The good news is that he has a septuple jump, but even that comes with its own set of problems.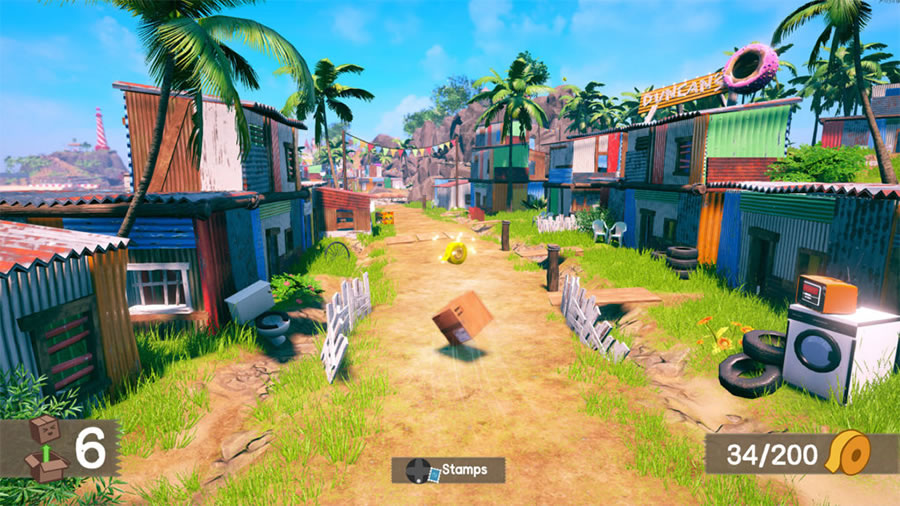 Click For the Full Picture Archive
And then there are the car missions. Here we see Newbie driving in what has to be the worst rally racing game I've ever played. The driving controls are straight out of Halo, only now on a narrow track where even the smallest obstacles will flip the car. There's a race towards the end that is so mind-numbingly frustrating that I almost quit the game. It's that bad. And the fact is, these driving sections don't need to be here. They don't play an important part in the story and there are already better racing challenges found on the islands. These driving missions probably should have been cut before release.
It's also worth noting that Unbox: Newbie's Adventure doesn't always run smoothly. Between the unstable frame rate and some of the performance issues, it sometimes felt like I was platforming in slow motion. This is especially bad when the action heats up during the fire fights. And then there are the bugs where you respawn inside of the level or have to deal with the game freezing. In fact, there was one time when both of those things happened at the same time.
This roughness is especially annoying because there's so much to like about Unbox: Newbie's Adventure. It has beautifully realized levels, charming characters, a cool concept and enough missions to keep players glued to the screen for quite a few hours. Unfortunately, it's hard to overlook the imprecise controls and annoying technical issues that plague the entire experience. Unbox is a fun game that doesn't quite get to its destination on time.