From AH3 Thunderstrike to Choplifter to Electronic Arts' Strike series, I used to be a big fan of mowing down tiny army men with my heavily weaponized helicopter. They offered the adrenaline rush of flying without needing to go especially fast, all while giving me a chance to rescue the stranded and do more than just kill people. But much like Big Bad Voodoo Daddy and Pauly Shore, I haven't really thought much about the attack chopper genre since the 1990s. That is, until now, thanks in large part to Air Missions: HIND, a straight-forward combat flight simulator from the developer that brought you Foosball: World Tour.
In a lot of ways, Air Missions: HIND is exactly what it sounds like. This is a game where you pilot one of several attack choppers and engage in a number of assault and rescue missions across more than three decade's worth of skirmishes. We start out in the deserts of Central Asia in the early 1980s, followed by a trip to Eastern Europe in 1997 and then to South-East Asia in 2004. Complete each mission and you'll unlock new gear and brand new levels to take on. Like I said, it's a straight-forward affair that gives you exactly what you're expecting.
Between the 17 chapter campaign and the various instant action modes, we end up fighting through a lot of familiar scenarios. We'll have to defend the airbase, clear the city of rebels, protect a convoy, fight a bunch of tanks, perform a medical evacuation and more. You'll see a lot of these objectives repeated in the different locations, usually with some sort of twist involved that will keep you on your toes.
We're eased into the action with a few tutorial stages that teach us everything from the basics of flying to how to guide a missile to the right target. For all this talk about it being a simulator, I was happy to discover that the gameplay is easy to pick up and fun to master. You'll be able to ascend and descend with the right analog stick, while pushing forward and back with the other to pick up speed and aim at bad guys. The shoulder buttons are used to cycle through and fire the different weapons, which include both a high-powered gun and a wide variety of missiles. We also have flares to distract homing missiles and different camera angles to help navigate the 3D space. I'm impressed that the controls never felt overwhelming, especially as they started to layer new mechanics on top of everything else.
That's not to say the gameplay is perfect, because it definitely took me a few missions to master the controls and swoop around like a pro. And even then, it sometimes felt like I was fighting the chopper more than the enemies. There are times when even the simple tasks are made frustrating due to way the controls are mapped and how small the enemies are. What I need is a proper flight stick, because the Xbox One controller doesn't always get the job done.
And that seems to be the theme throughout Air Missions: HIND. This is a game that does a lot of things right, but doesn't always get the job done. The problem is that it feels unpolished to the point where I started to wonder if the developers rushed it out before the game was done. The camera controls are occasionally awkward, the graphics are ugly and the experience is muddied by rampant technical problems.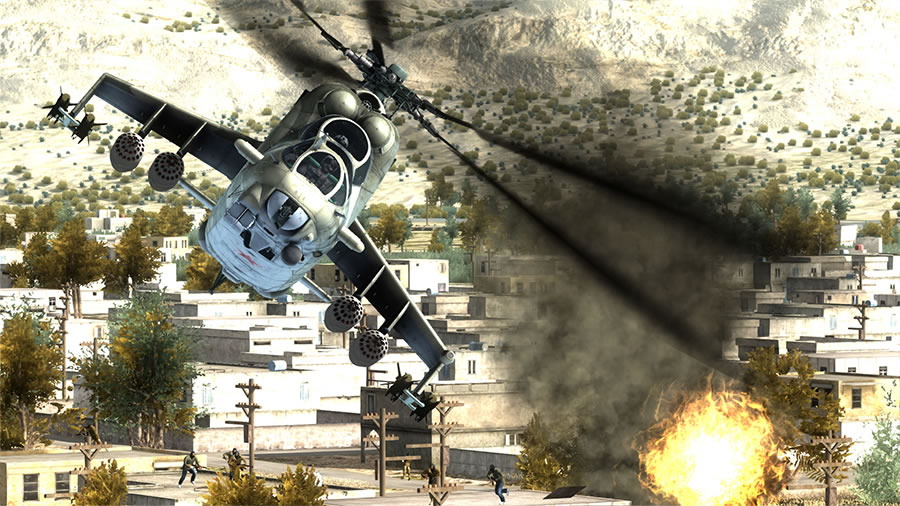 Click For the Full Picture Archive
The game's biggest sin is that the levels aren't especially interesting. We see a lot of large stages that are unspectacular in every way. They are generally lifeless and use a lot of bland textures. We also stay on them for far too long, especially in the first half of the single-player campaign. It's a video game and you can go just about anywhere in the world, yet the game insists on taking us to a boring desert where almost everything is the same color. Things do pick up a bit towards the end, but there's never a point where I was wowed by the setting.
For as rough as it is around the edges, I will say that I had a good time playing Air Missions: HIND with other people. While the game offers some intense competitive modes, I had the most fun teaming up with a friend and taking on the online co-op missions. These modes still suffer from most of the problems found in the single-player campaign, but the action is always better with a friend by your side and it's not like there are a lot of other helicopter options on the Xbox One.
I find myself conflicted when it comes to Air Missions: HIND. On one hand, I found the gameplay easy to learn and enjoyed flying around in the wide open stages. Unfortunately, those stages aren't very interesting and you'll end up doing the same things in just about every mission. There's fun to be had here, but it's buried under an unpolished product with ugly graphics, loads of technical issues and a story that doesn't even try to be compelling. It's occasionally exciting, but I'm not sure Air Missions: HIND is going to rekindle my love for helicopter games.