Sometimes you can just tell that a cool concept is going to quickly wear thin. That's certainly the case with Blue-Collar Astronaut, the newest game from Idaho-based developer Mutated Software. While it has a funny name and compelling premise, I knew that the whole thing was going to grow repetitive and tiresome right from the opening minutes. Sadly, my initial impression was never proved wrong.
This is a game about the unsexy parts of space travel. Forget about exploring the universe to seek out new life and civilizations, because this has more in common with your local dock workers than Star Trek. Blue-Collar Astronaut is all about earning money from hauling things around and making deliveries, always in a ship that is barely controllable even in the best of situations.
It all starts out simple enough: You enroll in driving school to earn your license and get into a tremendous amount of debt. In order to pay that off, you'll need to start delivering pizzas to people around the world and galaxy. This eventually sends you into the big league, where you're in charge of littering the universe with advertisements and placing bombs on imposing asteroids. It's all about taking whatever job you can get to pay down your student loans and put food on the plate.
On paper, Blue-Collar Astronaut has a lot going for it. Beyond the admittedly fun concept, it offers more than 40 unique stages with a wide variety of missions. It also lets you replay those stages in a total of six different ways, such as Time Mode, Fuel Mode, Health Mode and Challenge Mode. These are the perfect addition to the bite-sized levels, and it gives fans of the game a lot to look forward to.
The problem is that I could never warm up to the gameplay. The way your space truck handles is deliberately frustrating. You only have thrusters on the back, so braking or making sharp turns requires us to completely flip the vehicle around and slam on the gas. This can be especially difficult when flying through cramped areas or dealing with each planet's gravity, and it's even worse when you're stuck in the middle of space trying to avoid lasers and debris.
Speaking of which, I have a real issue with the way the game handles deep space travel. The moment you get away from a planet, you'll see a larger version of your ship overlay the smaller one. I assume this to help people keep track of their location, but I found that it made it a lot harder to hit the goals. For one thing, it's a little too big, making it even harder to see your smaller craft. It's also misleading, especially when you're delivering pizzas. The pizza slice logo on the top of your car isn't aiming straight up, so I found that my eyes would get confused about the direction I was facing. This isn't a huge problem, but there were definitely levels where the large overlay would make everything a lot more frustrating than it needs to be.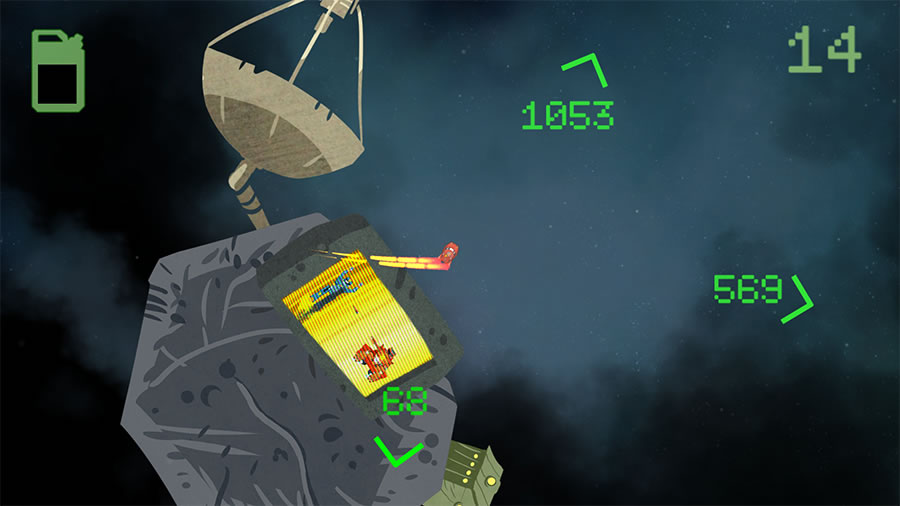 Click For the Full Picture Archive
I get the feeling that this is a game intended to be played in small doses. In that sense, Blue-Collar Astronaut makes the most sense on the PS Vita, where you can play a level or two and call it a day. That's probably the way I should have ingested the game, but I chose to play through the whole thing in a couple sittings. This only exacerbated the inherent repetition, leaving me desperate for something other than delivery jobs. I can see this finding a cult following that loves everything I hated about the game, but it really didn't take very long for the monotony to drive me up the wall.
To its credit, there are some things I genuinely like about the game. While the space travel isn't especially interesting, I do like the look of the various planets. The art is created by well-known cartoonist Maki Naro, and it's easily the best thing about the game. I also really liked Charlie Armour's catchy soundtrack. There's a lot of charm sprinkled throughout the game, which makes me even more depressed that I didn't connect with Blue-Collar Astronaut.
As a goofy premise, this one has a winning idea. Unfortunately, the funny conceit is marred by frustrating gameplay and repetitive levels. It's often a chore to play and most of my failed attempts felt like they were completely out of my control. I can see this finding an audience, but Blue-Collar Astronaut left me wanting to find a high-paying office job.