Thankfully, I've never been in a coma. There was a time when I slept for a really long time, but I've never drifted into a deep unconscious state for days on end. And that's definitely for the best, because Bad Dream: Coma makes it look like a horrifying rollercoaster ride through David Lynch's worst nightmares. If any of that sounds appealing to you, then I strongly recommend you skip the prolonged unconsciousness and go straight to Desert Fox's newest game.
Bad Dream: Coma is an atmospheric point and click adventure game with a minimalistic art style and unforgettable story. You play a guy who has recently slipped into a coma and is desperately trying to get out. He fears that something is seriously wrong, and he's going to be stuck in this suspended dreamscape for eternity. This is especially frightening because he's surrounded by death and sorrow, with dangerous creatures and morbid sights around every corner.
The idea is to go from frame to frame picking up items and using them to solve puzzles. From a gameplay perspective, this is a lot closer to Myst than Maniac Mansion. But don't think that means we're getting a bunch of nonsensical puzzles that involve hours of trial and error, because the puzzles here make sense and use understandable logic. Granted, sometimes it's dream logic, but I'll take that over pulling levelers until you get the right combination.
Bad Dream: Coma is split into eight different chapters, taking us across a destroyed bridge, through the creepy forest, past the graveyard and into a poorly kept hospital. We meet a handful of other people stuck in this nightmare, including an overworked nurse, an arachnophobic chef and a poor guy who's missing his eyes, ears and hair. It's up to you to not only figure out what's going on, but to put the pieces back together in order to wake from your coma and escape this hellish world.
As a point and click adventure game, you've seen a lot of the gameplay before. What makes this stand out is the way the narrative unfolds and how it looks. Every location looks like it was hand-drawn on a sketchpad, complete with mistakes and blemishes. What I really like is how it starts to play with the visual style over time, reminding us that it knows that it's little more than a drawing. I also like the way they reuse the different parts of this world, having you see them from a couple different perspectives. Each spot has a purpose, though it's not always clear the first time you visit them.
It takes a little while to come into focus, but the emotional story is surprisingly grounded for a game set in a nightmare. Sure, we're treated to a lot of messed up visuals that come straight out of a surreal horror film, but it also tells a compelling tale about family and loss. I like the way it all wraps up, and the fact that there are multiple endings will make you want to go back and change the way you tackle the puzzles. The final two chapters are insane in the best ways possible, and I immediately wanted to talk to somebody about what it all meant after completing the story. It's one of those kinds of games.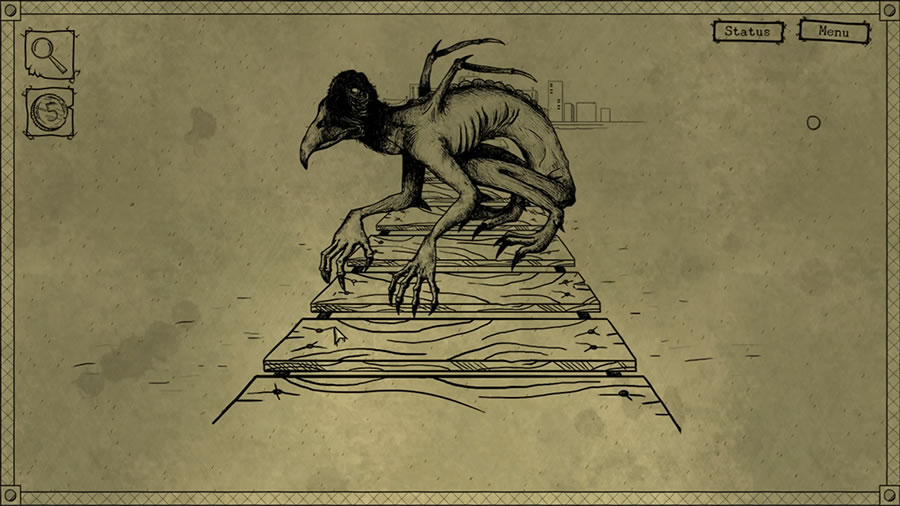 Click For the Full Picture Archive
Unfortunately, Bad Dream: Coma suffers from a lot of the same problems that plague this style of point and click adventure games. A lot of the game revolves around dragging your cursor all around the map looking for items and things to interact with. The hand-drawn visuals sometimes make it tough to see what you can pick up, and you'll often need to backtrack in order to advance the story. There are a lot of items that can only be collected once you've triggered a certain scene, so it's easy to miss what you're supposed to grab because it was just part of the background a minute ago. It would have been nice to see the game offer an optional hint for when you're stuck, because there's a little too much pixel hunting in the same few rooms.
This is the kind of horror game that doesn't rely on cheap jump scares to be effective, but rather offers the type of frights that genuinely get under your skin and make you squirm. Bad Dream: Coma nails the look and atmosphere, all while telling a deeply emotional story that just about anybody can relate to. And more than anything else, this horrifying point and click adventure game offers a valuable life lesson: Do everything you can to avoid drifting into a coma.