When most people think about Nintendo's long-running Legend of Zelda franchise, they remember the epic adventures, the incredible boss fights and that sense of discovery. But when the makers of SpiritSphere plays The Minish Cap and A Link to the Past, they see a highly competitive sports game just waiting to become the next big eSports phenomenon.
SpiritSphere is one of those games that probably shouldn't work as well as it does. It's a fairly transparent Legend of Zelda clone that ditches the questing for a fast-paced game of tennis played entirely with swords and magic. You zip around vaguely familiar locations picking up power-ups and smacking the floating sphere into your opponent's net. It's a game for people who always loved the idea of Mario's sports series, but wished it was inspired by Zelda.
We're first introduced to our Link alternative -- Lin. She fights through ten stages in an attempt to show up the other contestants and earn extra coins. She wields a deadly sword, giving her both a standard and powerful swing. If she holds down the button, Lin will charge her energy and give it everything she has.
Beyond the typical swordplay, our Link wannabe can pick up special items that will speed her up, make her grow in size and let her shoot arrows at her opponents. Of course, the person, animal or monster on the other side of the net will also collect these items, creating a fun dynamic where you're constantly dodging bombs and other objects. You'll also need to avoid the many stage traps, such as rocks getting in the way or skeletons wandering around the course.
After you've gotten used to Lin, the game will open up with a whole cast of colorful characters. You'll race around the screen on four legs as Buster, a cat-like creature with a nasty hiss. There's Fennel, an armored-up bunny rabbit with a speedy go-cart. Baphomet takes the place of Ganon, using his evil powers to win the match. And don't forget about Ozo, which uses magic instead of weapons. Each of the characters feels a little different, so you'll want to go through the game with everybody to find your favorite.
The match can also change depending on the type of sphere you're playing with. The game does a good job of mixing things up with spheres that have different effects, such as throwing a fireball every time it gets hit, randomly turning invisible and even splitting into three spheres. This, along with the power-ups and the occasional squash matches, goes a long way to help keep SpiritSphere fresh over time.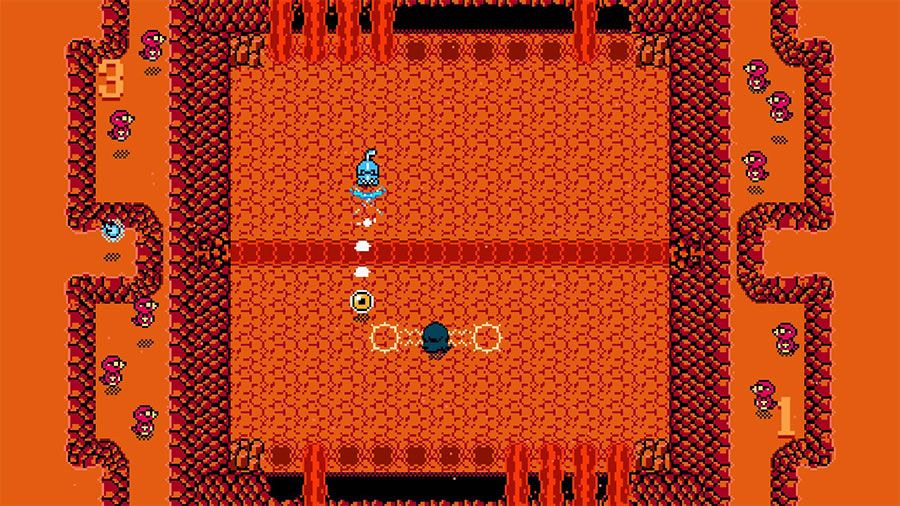 Click For the Full Picture Archive
When I played the Early Access build back in 2016, I was struck by how it felt more like a Zelda spin-off than a proper sports game. The same is true now. That's not to say the gameplay is bad, but it often feels like the mechanics are better suited for fighting enemies than playing tennis. It never feels like a game designed to be a sports game, but rather an action game modded to be competitive. That said, the controls get the job done and you'll get used to how the game handles after a few matches.
With only ten levels to complete and very few unlockables, solo players will quickly grow bored of SpiritSphere. You'll enjoy checking out all of the characters and throwing gold coins into the fountain, but there isn't much here to bring you back. That said, the game comes to life the moment you add other people. Like a lot of sports games, this was designed with multiplayer in mind, so most of the fun will involve getting your friends together and seeing who's best. Unfortunately, the multiplayer fun is limited to local play, one of my few major gripes about this otherwise likable sports game.
As silly as it sounds, Zelda and WindJammers is a surprisingly winning combination. SpiritSphere doesn't have the depth of most sports games, but it's an absurd amount of fun when you play with friends. It has a great sense of style and a lot of ideas I wouldn't mind seeing in future sports games. What's next, Super Metroid Volleyball?