It's human nature. Somebody screws you over and you want to take revenge, so what do you do? Summon an evil spirit to go on a gruesome killing spree. It's a plan that usually ends with a lot of dead teenagers and at least three unnecessary sequels. But while this never ends well for the humans, it always looks like a lot of fun for the otherworldly killer who can hack and slash with reckless abandon.
Aragami puts you into the incorporeal shoes of one of those summoned killing machines. You play an undead ninja assassin who has been brought back to life in order to help Yamiko, a mysterious girl who wants the spirit ninja to get her out of the mountainous fortress of Kyuryu. This sets up a quest where our spectral hero uses his powers to kill pretty much everybody who stands in the way.
As a summoned spirit, Aragami has a lot of supernatural moves up his sleeves. For one thing, he's able to hide in the shadows, teleporting from one dark area to the next in order to get the perfect kill. He's also able to paint the ground with a shadowy substance that opens up new paths around the stylish old school Japanese setting.
It took a little while, but eventually came together in a way that made me feel like a real badass. It's easy to teleport around the large locations when you get into trouble, giving our hero a lot of fun ways to toy with his prey. There are also a number of powerful abilities he can master and upgrade throughout the lengthy quest, giving him even more control over those pesky humans.
As a stealth game, Aragami is a cross between Tenchu and Dishonored. The controls are simple and the action is fast-paced, making this this one of the more accessible games in the genre. You'll still need to sneak around and hide in the shadows, but there are always a number of ways to quickly get out of a sticky situation and flee to safety. But watch out, because all it takes is one slice of the enemy's sword to send our ninja hero back to the afterlife.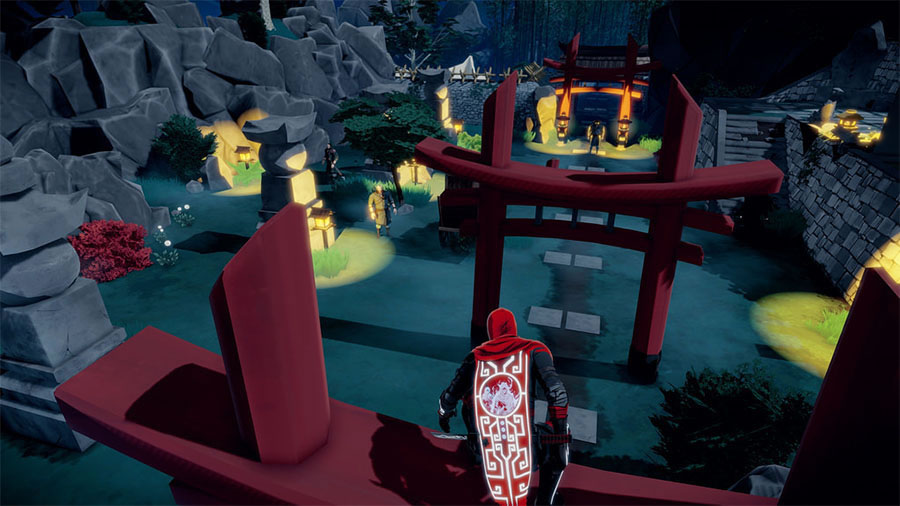 Click For the Full Picture Archive
This is a cool concept for a game, but it often feels like it doesn't go far enough. You're a powerful ninja spirit who has been summoned to take out hundreds of guards, so it's a little disappointing that all of his special moves are so painfully generic. There are so many incredibly gruesome stunts he could conceivably pull off, yet all he's able to do is throw a ninja star and blind his foes with shadows. Eventually he'll be able to summon a creature to literally eat the guards, but you'll see that animation so many times that it will quickly lose its impact.
Unfortunately, that complaint also extends to the standard kills. For a game about sneaking up behind people and murdering them, Aragami has a woeful lack of kill animations. It's a shame the game doesn't use its environments better, giving the ninja unique ways to slaughter his enemies. But no, it's the same animation over and over and over. At least it's quick and easy to pull off, but it would have been nice to see a dozen more animations added to the roster.
Part of the reason it's so easy to pull off the kills is because the guards are a few knocks to the head shy of being fully brain dead. They wander around in a daze, completely oblivious to anything that is not directly in front of their eyes. And even when you are standing right in front of them, they have terrible vision and will rarely see you. You can walk right up next to them and pull off a stealth kill. Hell, there are times when you can literally run at the guards and kill them before they even notice. The game plays fast and loose with the stealth mechanics, especially after you've upgraded Aragami a few times.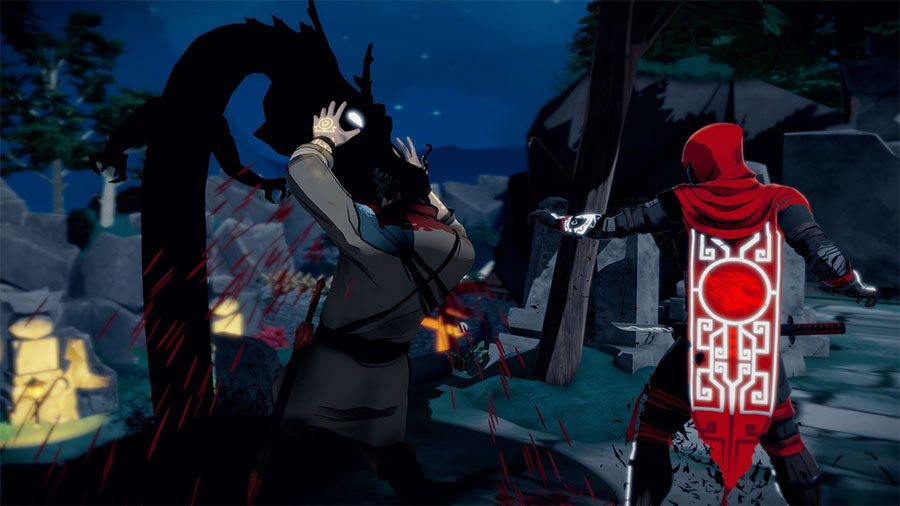 Click For the Full Picture Archive
The sad truth is that this game's biggest enemy isn't a ninja army base set on a treacherous mountain, but rather the crummy performance. There is nothing stable about Aragami's frame rate. From stutters to freezes to bad camera angles, there was never a time when this game ran smoothly. I suppose the good news is that the game never crashed on me, but that's an incredibly low bar to set. I get the feeling that the game needs a patch or two before it runs like it should.
The horrible performance is especially disappointing when you see the striking cel-shaded visuals. I'm a big fan of the look of Aragami, but wish it ran a lot smoother. There are some cool locations to explore and it's fun finding new ways to hide from the mindless guards. Sadly, all this is undermined with performance issues that hinder nearly every moment of the game.
Fans of stealth action games will find an engaging story and cool character in Aragami. Sadly, they'll also find a lot of recycled ideas and a horrendous frame rate. But those who can get beyond some of the execution problems will find a compelling adventure with a lot of fun levels to explore. It's a little sloppy, but that's usually the case when you're summoning evil spirits to kill your foes.