When Namco went to show off their 1980 lineup at the Amusement Machine Operators of America trade show, many in the industry were confident that Rally-X would be the breakout hit. Gamers disagreed, strongly preferring another overhead maze runner -- Pac-Man. I've often imagined an alternate history where the industry know-it-alls were right and we've spent the last 36 years drying off from a flood of Rally-X sequels, reboots, cartoons and loving homages.
Escape: Close Call reminds me of the type of arcade experience Rally-X would have eventually led to. It's an action-packed car chase where the object is to zip around the ensuing police officers and force them to crash. It's the kind of game where you'll earn valuable points from every near-miss and close-call, all while the player attempts to outrun the cops for ten minutes and escape the city unscathed.
Although it's an admittedly simple premise, Escape: Close Call is not the type of game you can beat in a single go. The idea is to earn as many points as possible before the car runs out of gas, and then use those points to unlock new perks and upgrades. Do this enough times and you'll be able to cause just enough havoc to get away from the aggressive police and find your way to safety.
This isn't Twisted Metal and our car isn't loaded up with high-powered weapons, so it often feels like we're playing the part of a matador. You'll want to zip around the enemies in hopes of creating a Burnout-style crash that creates a multi-car pile-up. We get points for smacking into these crashed cars and running over the zombie police officers that spawn from the wreckage. But beware, while running over zombies is a good way to earn points, it creates an obnoxious visual effect that makes speeding around the already challenging city that much tougher.
It probably won't come as a surprise that the gameplay is just as simple as the premise. The car is constantly moving, so all we're left to do is steer. We're unleashed in a fenced-in section of the city, where it's your job to swerve around the cops and keep the pursuit going for as long as possible. Aside from steering left and right, we're given something the game calls "Standoff Mode," which sends the car into an epic drift and gives us an exciting way to elude capture.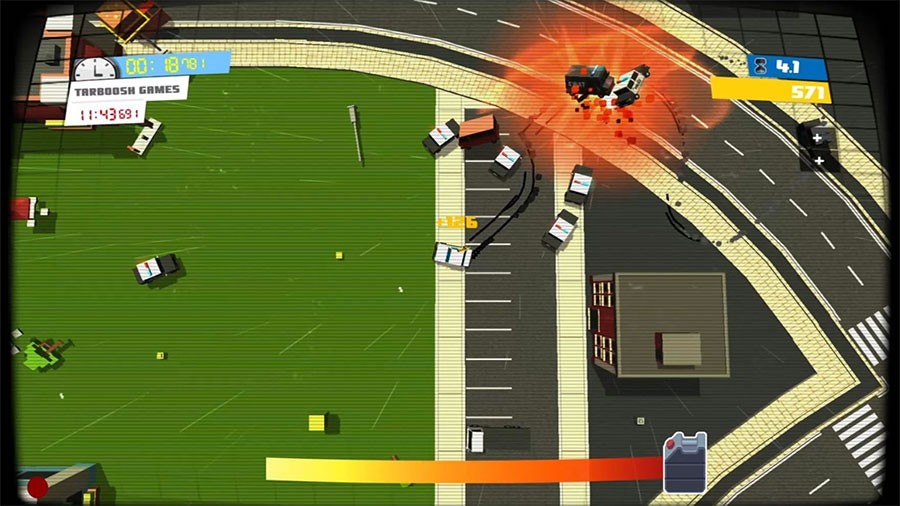 Click For the Full Picture Archive
Aside from steering, players are also able to pick from a series of power-ups. These items will temporarily turn you invisible, add a gun turret to your car and slow down the enemies. You'll be able to spend money to upgrade these powers, turning your little car into an unstoppable force. But don't get too used to these perks, because even the slightest nudge from the police will usually end the game. You'll need to master the controls and know when to use the power-ups in order to make it out alive.
Escape: Close Call is a game that grew on me over time. I went into it loving the concept, but a little cold on the execution. I hated how quickly my car ran out of gas and wished the cops were a little more forgiving. But I stuck with it, and I'm glad I did. After spending my hard-earned points and unlocking the power-ups, the game opened up in a way I didn't expect. There are still a few elements of the execution that I wish were tightened up a bit, but I was completely won over by the game's charm.
That said, I do wish Escape: Close Call was a bit more random. This is a game with the setup and structure of a roguelike, but none of the procedurally generated elements. The city layout never changes, so we're stuck racing through the same locations with every play. To the game's credit, the developers have done a good job sectioning of each part of the city, but I still found myself taking the same paths and largely repeating myself from one game to the next.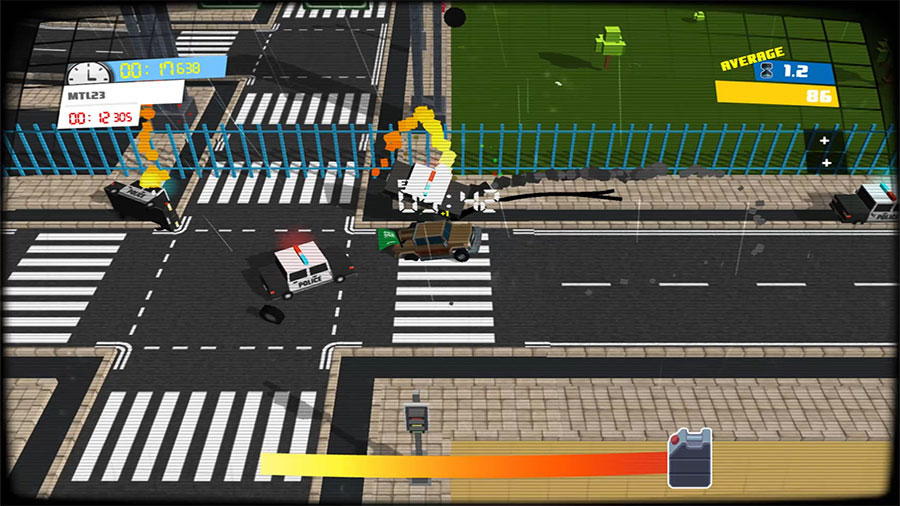 Click For the Full Picture Archive
It's also worth mentioning that Escape: Close Call is still incredibly buggy, even a few months after release. I ran into problems where main menu wouldn't appear and the power-up bar wouldn't disappear. The controls also seem to change at random. Sometimes the Square button on my PlayStation 4 controller would restart the level, other times it would close the program without warning. And then there are the sound options, which never wanted to stay in place. The good news is that I never lost any progress due to these bugs, but they still weigh down an otherwise fun experience.
While there are definitely things I would change, I would be lying if I said I didn't lose an entire day addicted to Escape: Close Call. Even when I was at my most defeated, I couldn't stay away. I kept jumping back in, hoping that this would be the run where everything lined up perfectly. That's basically all I'm looking for from a good arcade experience, and Escape: Close Call certainly delivers on that promise.