After years of surfing the internet and watching YouTube clips, I have come to the realization that I'm not an angry guy. I don't scream at developers, fly off the handle or get so worked up my heart is on the verge of exploding, I stay calm and level-headed. With a name like Too Angry to Space, I was concerned that AK84C's debut action game was better suited for those critics more prone to hyperventilating. Thankfully, I was wrong.
Silly name aside, this is a brand new action game inspired by classic platforming shoot-em-ups from the 1990s. You play a cosmic marine named Red Madson, who will need to fight his way through 14 stages in order to rid the base of space invaders. It's a straight-forward mission that harkens back to games like Metal Slug, Contra and Turrican.
Each level is large and wide-open, giving us a lot of room to explore as we search for the exit gate. The goal is to scour the area for a colored keycard that will open up a door and allow our hero to continue his adventure. These cards are often hidden in out-of-the-way locations, forcing Red Madson to discover every nook and cranny in a mad rush to save the base. This usually requires navigating past floating platforms, avoiding the alien's deadly traps and fighting huge boss creatures.
There's a simplicity to the formula that extends far beyond the setup. Too Angry to Space is not the kind of action game where you level up the hero and give him new abilities; it's a no-frills platforming shooter where you shoot down aliens and save the day. Nothing more, nothing less. About the deepest this action game gets is allowing players to switch between four different weapons, including a typical assault rifle, rocket launcher and shotgun.
If the game's description is to believed, Too Angry to Space was designed for those looking to relax with some laidback action. Yet, that is certainly not the game I played. While the first few stages are no big deal, the difficulty quickly ramps up. This is especially true of the boss battles, which include characters that can kill our hero in a single strike. Too much of this game is designed around slowly clearing each stage and staying out of trouble, not the kinds of activities that help me relax.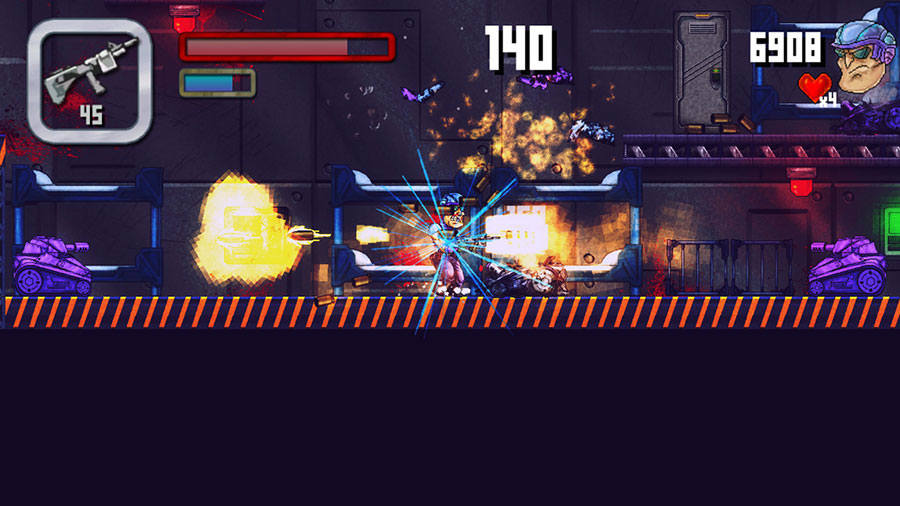 Click For the Full Picture Archive
The gimmick here is that Too Angry to Space can be played using only one hand, freeing the user up to hold a beer or play a second one-handed game. While I appreciate the emphasis placed on simple controls, I don't recommend going through the 14 stages using one hand. The game requires too much precision to be played that way, and I found life got a lot better when I used a standard gamepad.
The big problem here is that Too Angry to Space isn't especially original. You've seen most of what this game offers, and it never does anything to standout from thirty years' worth of run-and-gun action. I also found the stages to be bland, with the same types of uninspired backgrounds littering every level. And even with a controller making everything better, I still ran into some gameplay issues that left a bad taste in my mouth. I really wish this game wasn't designed with one-handed play in mind, as the compromises end up hurting the shoot-em-up mechanics.
Too Angry to Space is a promising debut from a young developer. It doesn't do anything you haven't seen countless times before and the controls are not always as precise as I would have liked, but it gets most of the fundamentals right and does a good job mimicking the 1990s action games I grew up playing. Just don't go in expecting a relaxing time in space, because this fast-paced shooter is anything but laidback.