When I talk about how much I love Sony's long-running wipEout series, a lot of people think it's because of the fast-paced racing, great graphics and killer techno soundtrack. But that's only half the reason. For as much as I love the speed and presentation, what I connect with most is the world the developers have built around this futuristic racing game. Even on the 32-bit PlayStation, it always felt like real thought went into creating a compelling setting.
This is one of the many things Riptide GP: Renegade seems to understand. The developers at Vector Unit could have just as easily created a series of colorful courses based on popular real world settings. But no, they decided to go one step further by crafting a fascinating science fiction world full of spaceships, intense battles and post-apocalyptic cities. It's the kind of thing you might expect to see in a Halo sequel, not one of the year's most enjoyable racing games.
Riptide GP: Renegade came as a real surprise. Having missed the original iOS and PC installments, I didn't expect a whole lot out of this brand new PlayStation 4 and Xbox One racer. Looking back on it now, I'm not sure why my expectations were so low, because I was immediately blown away by not just the compelling world, but also the level of confidence that exudes from this $15 download.
Riptide GP: Renegade doesn't stray far from the tried-and-true racing game formula. You jump on a super-powered jet ski and speed through a series of futuristic stages in hopes of coming in first. Along the way you'll compete against a bunch of eccentric characters, unlock new hydrojets and earn prize money for upgrades. You know how Riptide GP will play out even before it's done downloading.
But as formulaic as it all seems, I was shocked by how quickly I fell into the familiar loop. The racing is a wickedly exciting mix of Hydro Thunder and SSX, combining water-based racing with an emphasis on pulling off crazy tricks. It's over-the-top in all the right ways, often reminding me of the types of arcade racing games we used to see at the turn of the century. And thanks to years of making Riptide games, this brand new console release has a polished presentation complemented by tight gameplay.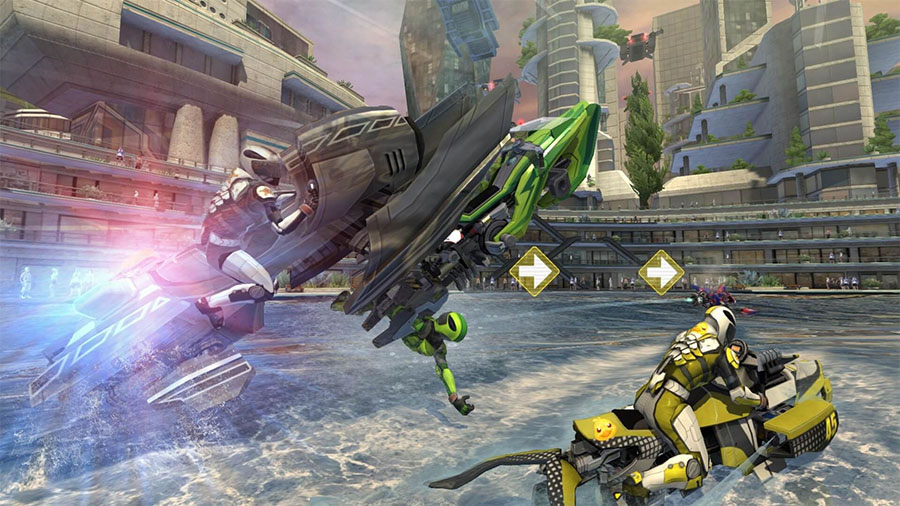 Click For the Full Picture Archive
The straight-forward campaign mode sees us playing through 31 sections, each with a few different events to complete. Along the way you'll run into boss characters that add both personality and context to this unusual world. There are also a few event types beyond the typical race, including solo slalom courses, endurance races and freestyle events that involve tricking off of every just you can find. There aren't any modes here you haven't seen dozens of times before, but the events are so exciting that I barely noticed.
The real stars here are the nine futuristic stages, each taking inspiration from your favorite science fiction movies. We race through a military base with enemy forces attacking from all sides. There's a downtown race with flying cars and swanky skyscrapers. The Alpha Station has more than just flying cars; it has a knock-off Millennium Falcon swooping by at the most opportune times. And much like the arcade racers that inspired Riptide GP, each stage offers hidden shortcuts and faster paths.
It's the small details in each stage that help bring these locations to life. From the city streets and wrecked cars just underneath the shallow water to the way the carnival lights up the night, the world Vector Unit has created feels real and lived-in. Every one of the tracks could be spun off into its own open-world action game. That's not the kind of thing I normally say about an arcade racer.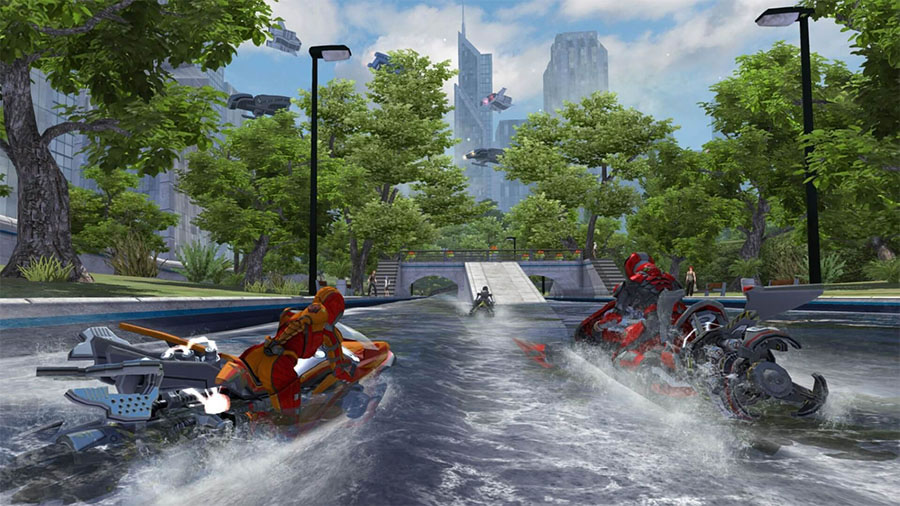 Click For the Full Picture Archive
For as much as I loved speeding through what used to be bustling city streets, I do wish there were more courses in the game. The nine are all diverse and fun to play, but you'll see them countless times before completing the full circuit. It doesn't help that each stage has a set direction and time of day, so they never mix things up with new weather conditions or a mirror race. That's a shame, but there's still a fair amount of content for the budget price tag.
Riptide GP: Renegade is a testament to how much great controls and a killer setting can add to an otherwise straight-forward racing game. Although formulaic, Vector Unit's newest game makes a splash by evoking some of my favorite arcade racers, all while offering just enough variety, upgrades and modes to keep you invested for hours to comes. It comes up a little short on content, but Riptide GP: Renegade is one of my favorite racing games of the year.