There were only three things I knew about Odin Sphere before jumping into the PlayStation 4 and PS Vita ports. I knew that when it first came out on the PlayStation 2 in 2007, making it one of Vanillaware's very first games. I also knew that it was a fast-paced adventure game that mixed traditional beat-em-up gameplay with an involving story. And most importantly, I knew that the game was supposed to be long. I don't mean long for a brawler, but actually dozens of hours in length.
Having missed out on the game when it first hit PlayStation 2, I'll confess to feeling a bit dubious about those claims. Having put so much time into titles like Magic Sword and Cadash, I wondered how a developer could keep the game going for dozens of hours. This is a doubt that lingered long after I started Gwendolyn's exciting adventure, since it always seemed like I was making quick progress. It wasn't until seven hours in that I realized that not only is Gwendolyn not the only hero, but she is just the first of seven long stories that make up the emotionally rich world of Odin Sphere.
For many, this revelation probably won't come as a surprise. This is, after all, a game that came out a decade ago and its secrets are readily available on the internet. However, if you're like me and missed out on the game back in 2007, then prepare to be introduced to one of the most elaborate beat-em-ups in existence. With a story that spans seven characters and all kinds of dangerous terrain, this is definitely not a game you'll beat in one sitting.
Framed as a series of books a young girl is reading in a cozy attic, Odin Sphere tells the tale of Gwendolyn, the younger daughter of the Demon Lord Odin. After a family tragedy, this unlikely hero finds herself caught up in a plot to gain control. This sends her on an adventure where she'll befriend allies and fight those who oppose her.
One of those people is Oswald, the Shadow Knight. Adopted at a young age, this is an expert fighter who lives to carry out orders. However, not all decisions are black or white, as this conflicted character will soon find out. There's also Cornelius, a hapless romantic who gets transformed into a floppy-eared fighter. And then there's Mercedes, who becomes the leader of a nation she has no preparation to lead.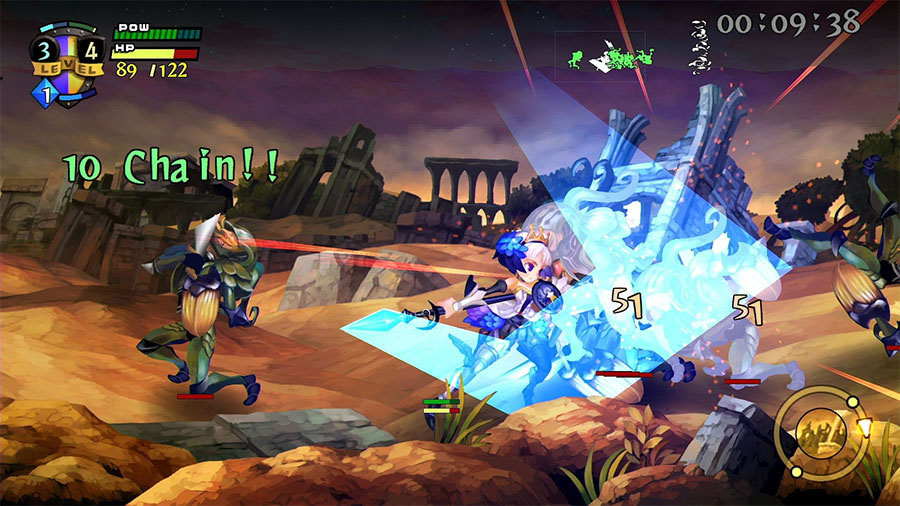 Click For the Full Picture Archive
Through these seven lengthy stories, we learn about this fantastical world through the eyes of these disparate characters. Stories that seemed straight-forward at first are turned on their head as we're given different perspectives and new information. It's a deep and convoluted story that uses over-the-top characters and excellent voice acting to create the Game of Thrones of 2D beat-em-ups.
While nowhere near as deep as the story, the gameplay changes in some interesting ways between characters. For the most part, this is a game where players mash on the attack button until the enemy is dead. There are some combo moves, such as flinging the bad guys into the air, but most of the melee comes down to using the same button to smash everything into oblivion. Each hero can also unleash a series of power moves, which you'll earn and master along the quest. You can map up to four power moves per each character, leading to some devastating combos.
As I mentioned a moment ago, each character plays differently. For example, Cornelius fights with a sword and is limited to a double jump, while Mercedes is able to fly around the screen and shoot balls of energy. Oswald, on the other hand, can go into a berserk mode that speeds him up and make his attacks more powerful. It's a lot of fun learning the nuance of each character, even though I definitely liked some more than others.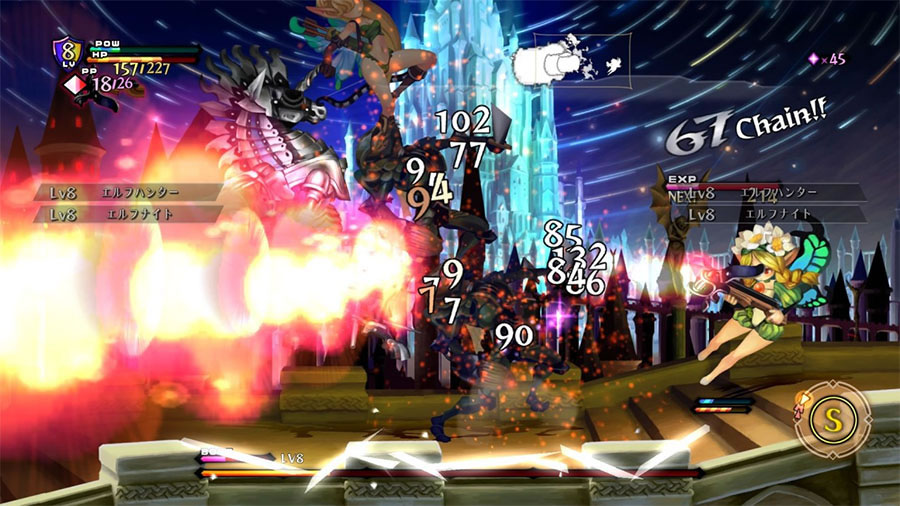 Click For the Full Picture Archive
Each chapter is played across a large map filled with a bunch of spherical battlegrounds. While these stages appear to be flat, you'll quickly realize that running to the right sends you into an infinite loop. Each of these areas is small and sends you into a bite-sized fight, often lasting only a minute or two. And with plenty of diverging paths and valuable items to unearth, there's a lot of incentive to explore all map and revisit old levels to grind for experience.
Between the incredible hand-drawn graphics and involving story, I was immediately blown away by this HD version of Odin Sphere. I fell in love with the character designs and small touches to each world. But as I played through the same group of stages and saw the same bosses, some of the charm started to wear off. I was still transfixed by the characters and what was going on, but the story is longer than the gameplay is interesting.
I found this to be less of a problem on the PS Vita, as I was more inclined to play it in shorter bursts. Since the chapters are fairly short, it's easy to speed through a few minutes of combat and make real progress. I found myself playing for longer stretches on the PlayStation 4, which only worked to highlight the repetition. Odin Sphere is at its best when it's being picked at little by little.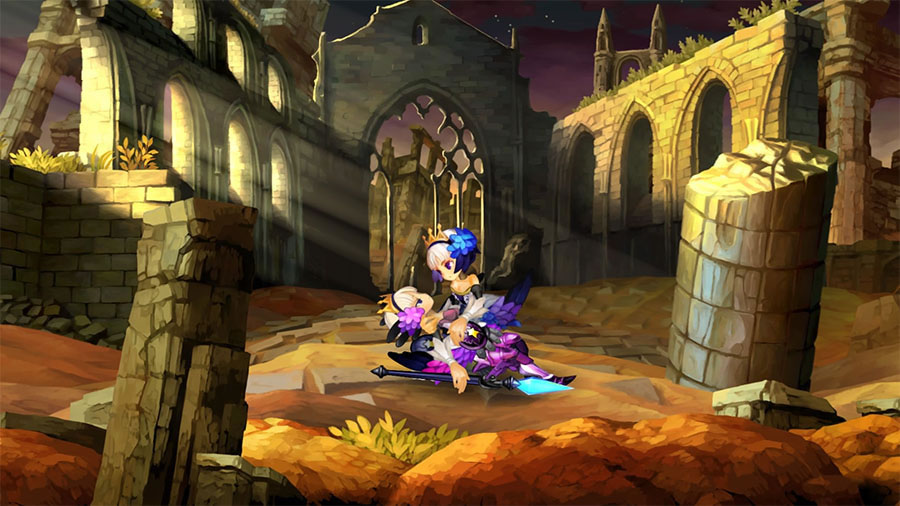 Click For the Full Picture Archive
Of course, it's easy to want to keep playing when the game looks this good. Already a 2D stunner on the PlayStation 2, this HD version takes the incredible visuals to a whole new level. Best of all, it also looks fantastic on the PS Vita. If you were worried that handheld gamers would get a downgraded port, fear not, the Vita version is just as fast and fun as its console counterpart. Unfortunately, Odin Sphere isn't cross-buy between PS4 and Vita, which is a big disappointment.
Gamers who don't connect with the story may find the experience too repetitive and overlong, but those who love 2D brawlers and these colorful characters will find a lot to love in Odin Sphere. No matter if it's on the PlayStation 4, PS Vita or PS3, this is an exceptional re-release with stunning graphics, an involving story and a great cast of heroes.