I think it's safe to say that the internet loves cats. If the amount of YouTube videos starring furry felines has taught me anything, it's that you're really into cats. I have something of a love/hate relationship with cats. I adore their soft fur and independent spirit, but my allergies make every encounter a miserable experience. This pretty much sums up my thoughts on She Wants Me Dead, the quirky new PlayStation 4 platformer from Swedish developer Hello There.
The 'She' in question is none other than Lula, a mischievous feline out for revenge on her selfish owner. You play that clueless owner, a man named Max who is forced to survive ten short but challenging obstacle courses in an effort to appease his pissed-off cat. It's a goofy premise that sets up a platformer that is more frustrating than fun.
The goal is to get Max from one checkpoint to the next without losing more than five lives. That's it. There are bonuses tied into completing each stage in a certain amount of time, but there really isn't much more to this game beyond run to the right, dodge a bunch of dangerous traps and get to the checkpoint. And once you've done that, it's on to another stage full of even more challenging traps.
The obstacles are nothing you haven't seen in dozens of other platformers, including large saw blades, moving platforms, electricity and, of course, spikes. Each stage requires pinpoint accuracy and perfect timing, something that is made difficult by the loose gameplay and imprecise jumping. I'm all for platformers that push me to perfection, but this kind of thing requires perfect handling in order to be fun.
The real problem is that none of this is cat related. The developers could have replaced Lula with some deranged serial killer or a scorned lover and they wouldn't have needed to change even one stage. There's nothing about spike pits and saw blades that has anything to do with cats, and I spent most of the game trying to figure out how Lula managed to set all this up without people noticing the death traps. I know I'm overthinking it, but wish this game had more to do with cats.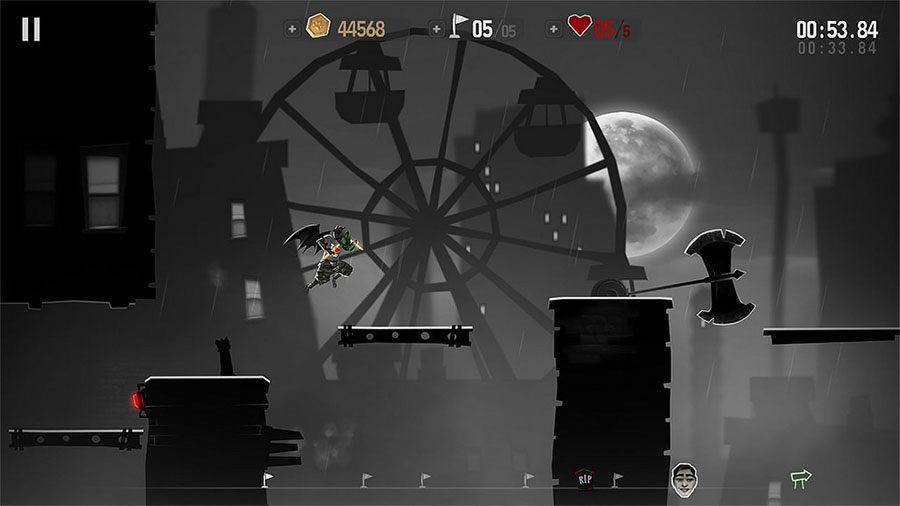 Click For the Full Picture Archive
At least the visuals are nice, albeit derivative. Lula sits in a comfortable chair smoking cigarettes and lobbing one-liners, almost as if she's hosting a 1950s anthology series on CBS. The game is nearly black and white, with only the briefest glimpses of color. It's a stylish choice that reminded me a lot of Limbo. She Wants Me Dead doesn't look as polished, but is still drenched in atmosphere.
While certainly not terrible, it's disappointing that more wasn't done with the goofy premise. The idea of a cat taking revenge on her selfish owner is rife with possibilities, yet all of that is squandered for a disappointing and generic platformer. She Wants Me Dead delivers the sadistic challenge, but not the fun.