After the financial meltdown and great recession, a lot of good people were forced to take bad night jobs. I'm not sure if that's the reason the dumb schlub at the center of My Night Job agrees to take on what can only be described as a suicide mission, but I'm glad he did. With a great throwback look, fast-paced gameplay and a large mansion full of classic horror movie references, I love a lot about this 2D action game. Too bad it's kind of busted.
The truth is, it doesn't matter why the hero of My Night Job needs the money. All we know is that he sees an ad on the TV and agrees to take part in a highly lucrative mission for the government. What he doesn't realize is that the mission is going to take him to a haunted house filled with zombies, cult members, monsters, aliens and all kinds of other dangerous creatures.
The goal is simple enough: Rush into the mansion and rescue 100 innocent survivors. Of course, this wouldn't be a high paying job if it were easy. The wildly varied monsters will team up and try to destroy the many different rooms that make up this house, so the new hire will need to rush from one side of the mansion to the other in hopes of keeping everything in control. It's a fun and frantic balancing act that will seem nearly impossible at first, but with a little practice and some luck, you'll be earning high scores in no time.
We're able to pick up more than sixty different weapons, each with a very limited amount of attacks. You can pick up an umbrella and smack the zombies around, kill a lot of monsters at once with a large trunk, cut through the undead hordes with a chainsaw, take a long distance approach with the shotgun and use those nearby chairs to your advantage. The game is full of weapons to pick up, though not all of them are as useful as you might like. And since each will break after only a few kills, you're always looking around for the next weapon to pick up.
A lot of the game's charm comes down to the small details making up each room. This isn't your typical haunted house, but rather a hilarious hodge-podge of movie references and scary stories. There's a nod to the Re-Animator in the basement, demonic possession in the kids' room, giant plant creature on the roof, flood in the bathroom and even a black and white movie theater. There's a lot going on here, and I enjoyed fighting through each room looking for all the fun references.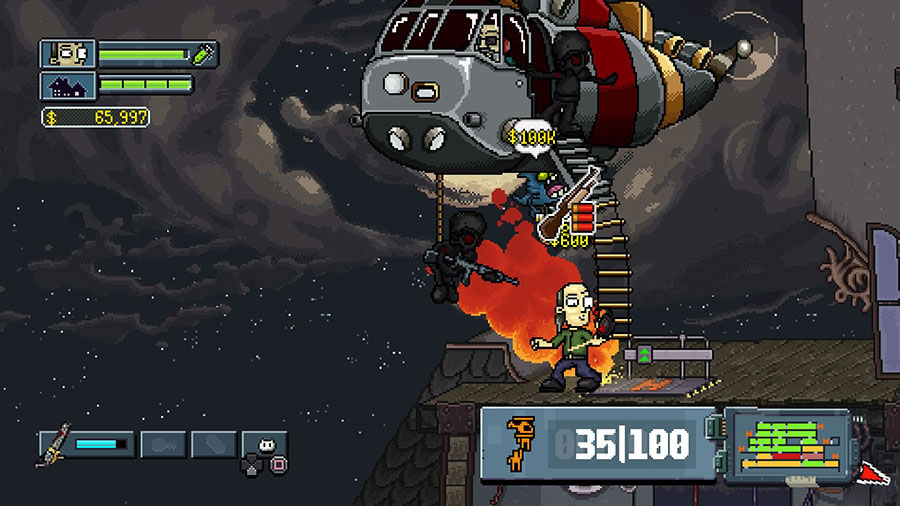 Click For the Full Picture Archive
Juggling all of the chaos becomes increasingly difficult the closer you get to rescuing all 100 survivors. Even after some practice, it won't take long to play through a complete run. What I liked about My Night Job is that you'll discover new secrets and strategies with each play, which spurred me to keep going. There are a lot of secondary objectives and items in the mansion to interact with, something that often led to humorous results.
But as carefully designed as the mansion is, I wish the developers had done more to randomize things from one play to the next. You'll run into the same weapons, secrets and objects in all the same locations, which can give the game a sense of sameness after a while. Even though the game encourages you to take different paths, I found that I stuck to a certain routine when getting started.
On a more serious note, I ran into a problematic bug where my character would stop moving for no reason. During especially hectic moments, the game will point out when rooms are being demolished. While this is a helpful move on the developer's part, it will sometimes cause an issue where our hero can't move or attack. He'll just stand there taking hits, forcing you to start over from the beginning. This is annoying, especially when you're on a roll and are close to rescuing all of the survivors.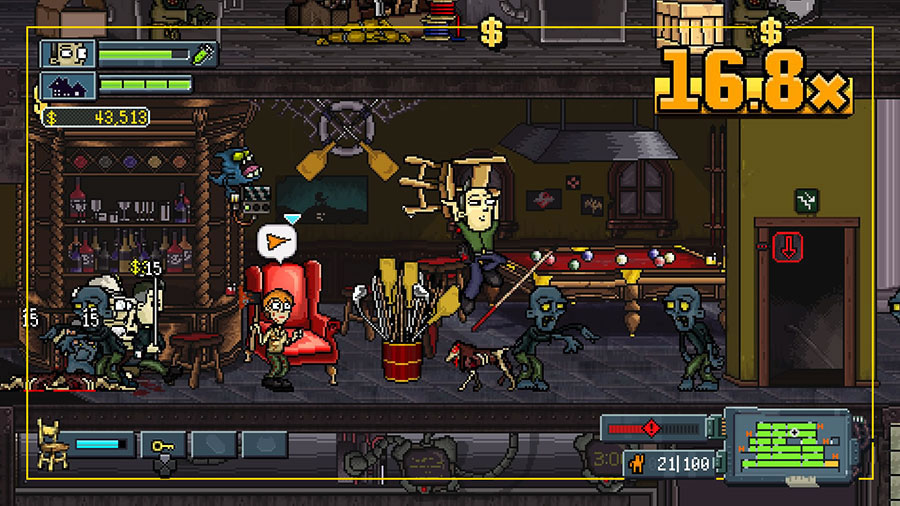 Click For the Full Picture Archive
The game's sharp visuals make the inherent repetition a lot easier to swallow. The gorgeously detailed sprite graphics are a real treat and full of personality. The art style reminds me of SNK's popular Metal Slug series, even if the gameplay isn't that similar. My only complaint about the presentation is that there isn't enough of it, and that has more to do with my greed than the quality of the game.
While it's not the kind of game you'll want to play for hours on end, My Night Job is a lot of fun in short bursts. The mansion is overflowing with secrets and surprises, and I can imagine a competitive high score scene rising out of this action game. Unfortunately, the great throwback visuals and cheeky sense of humor is overshadowed by technical difficulties and a heavy dose of repetition. My Night Job isn't very deep and might not stick with you for very long, but at least it's better than working a real night job.