People often ask me what it's like to be a world-famous games journalist. They want to know firsthand what it's like to jet set around the world playing games, attending events and hanging out with celebrities. Unfortunately, it's nothing like that! Being a games journalist means you sit on your butt all day typing. In an attempt to show you what it's like to write about games, Defunct Games is proud to introduce a brand new comic series: The Adventures in Game Journalism! Now you will finally see what it's like to be an editor at Defunct Games!
It's a good thing Diane found our hero
in last week's episode
, because now he can get cleaned up and take part in AMERICA'S NEXT TOP GAME JOURNALIST!! This is the very first episode filmed entirely on the reality show, so tune in to see what kind of wild antics the Game Journalist games himself into. Will he get voted out on the first Day? Find out now when you read the second part in our American's Next Top Game Journalist series!
ADVENTURES IN GAME JOURNALISM!
[ Episode: 7 | Title: America's Next Top Game Journalist (Part 2) ]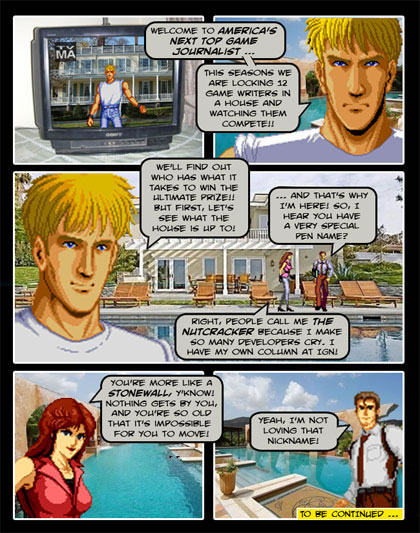 CLICK TO MAKE LARGER!
Next week we'll be back with the exciting middle chapter of Game Journalism Live on TV. Will this depressed writer win big money and fame? Will he take reality TV by storm? Will this be the opportunity of a life time? Probably not. But you can find out next week when we continue our adventure as our hero gets his first taste of the TV spotlight.