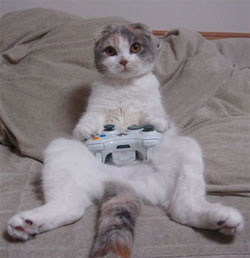 Warning: Not every article is going to be as adorable as this game playing kitty cat!
It's that time of the year again. A time when people start to get a little more impatient, the weather starts to get a little colder and the mall becomes a little more crowded. It's a time when all of the best games have already come out and, worse yet, all of the video game websites are devoting their time to making lame buyer's guides and awards shows. That's right; it's the official start of the 2008 holiday season!
But there's no reason for you to be depressed, because Defunct Games knows what ails you. We know that you would rather not have to deal with boring awards shows and buyer's guides. Let's face it, you already know what games you want and, much to your behest, there's no chance that GameSpot is going to proclaim that Rock Revolution is the greatest game of the year. All you want is for one of the game websites to deliver a daily article that interests you. Well, Defunct Games is ready to deliver just what you ask for ... assuming you're asking for a 29 day feature that looks at some of the best (and worst) video game controls of all time.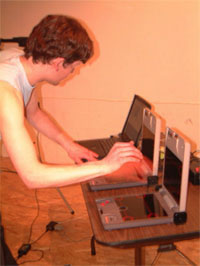 Sorry weird dude turning all of our favorite controls into musical instruments, the U-Force is not one of the controls we plan on covering this year!
That's right, it's time to finally unveil our mega-sized 2008 holiday feature. It's time we say hello to the 29 CONTROLS OF CHRISTMAS! For the next four weeks Defunct Games plans on offering a daily look at 29 of the best known video game controls, from the NES Zapper to the Xbox Control S to the original Guitar Hero guitar. We have a packed 29 days ahead of us, so it's up to you to hit up Defunct Games each and every day to see what we thought of your favorite controls.
Not only can you find these daily updates on our
RSS feed
and
Update Archive
, but you can also check out the front page widget so that you never miss an episode. Together we're going to make it through several generations of game controls, from the boxy NES control all the way up to the sleek Nintendo Wii remote. It's going to be quite a journey, so sit back and get prepared for our best holiday feature yet!
But don't think we're just closing down shop and only talking about controls for the next month, because we plan on bringing you our regular reviews, articles and special features. Make sure and check back with Defunct Games each and every day (even weekends and holidays) to see what's new. Until then, how about you take a few minutes out of your day to check out our very first episode of the 29 Controls of Christmas ...
ENTER THE 29 CONTROLS OF CHRISTMAS ARCHIVE!