Going Rate: $200 (complete set)*
What's Up:
Alright ... Samba de Amigo might not have been the most popular game, but getting four individual maraca is quite a task. Oh sure, you can buy two of the boxes (each for around $100), heck, you can even buy the lame generic brand knock offs, but for your money getting all four is vital. Thankfully the prices people sell them for used tends to fluctuate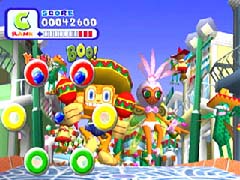 quite a bit ... but getting all the controls and the game is well worth doing, no matter who you are.
How Cool Are You:
Alright, picture this, you've just brought Lilly, your new girlfriend, back to your place. Now, before everything gets hot and steamy, you're going to want to find an ice breaker. She already said she liked "certain" games, and it's not time for Tekken ... so break out your maraca's and give her a couple to hold. Only a few hours later and you'll be smoking a cigarette and going to sleep. These maraca's may be expensive, they may even be excessive, but when it comes to a fun ice breaker, there are few better.
*Prices for games and collectibles has been known to fluctuate wildly. What's more, this article was written in 2001, so any number of factors could sink or improve its value. I hope you enjoy the article, but hope you won't take the prices too seriously.)