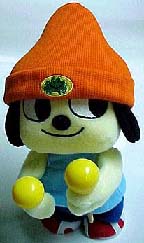 Going Rate: $30 - $50*
What's Up:
Now come on. Look at that picture to the right, how can you resist that picture of Rarappa with those maracas? Even people who have never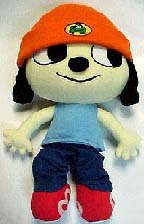 seen or heard this game will love Raprappa with a look like that. He's small and plush and, well, okay, so he's not very rare, but he could be? You never know how these things go. But come on, you know you want one, and I bet you'd even sleep with it, but probably not admit it.
How Cool Are You:
Well, depends on how cool you want to be. I mean, let's face is, if your friends sit around and rap at the most inopportune times, then perhaps this doll is right up your alley. Chances are if you know who Parappa is you won't have to think twice when seeing these photographs, but for you non fans, just remember: you gotta believe.
*Prices for games and collectibles has been known to fluctuate wildly. What's more, this article was written in 2001, so any number of factors could sink or improve its value. I hope you enjoy the article, but hope you won't take the prices too seriously.)