It's that time of year again, a time when Defunct Games celebrates the holidays by posting a daily theme article that should inform and delight gamers all over the world. This year we're counting down the days until Christmas by looking at 30 different video game genres. From the most popular games to the tiniest niche titles, everything fits into a genre and we're going to be there to shed absolutely no new information about that genre in this month-long feature. Join us as we celebrate this joyous season with the 30 Genres of Christmas!

Forza Motorsport > Gran Turismo!
How Do You Know You Are Playing a Simulation Racer?
If you're playing a Simulation Racing game then chances are you're spending more time tuning up your car than actually racing it. Popularized by Sony's Gran Turismo, Simulation Racers exist to accurately recreate real life driving conditions using real world cars. These racing games not only spend thousands of polygons on the exteriors of each car, but lately have gone as far as to show you what it's like to actually sit in one of these race cars. And the very idea of sitting inside one of these cars makes something strange happen in your pants. If that's the kind of person you are, then it sounds like you're already playing a Simulation Racer!
Patron Saint:
People in real cars driving way too fast.
Typical Story:
You start with nothing but a dream, a hatchback and a racing license. But it won't take you long to earn some extra cash, buy some better parts and take over the world. Race through hundreds of tracks against cars from all over the country. And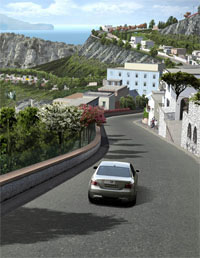 There is literally NOTHING I can say about this screenshot that will make it even remotely interesting!
just when you're sick and tired of doing that, you get back on that track and do it again. The life of a race car driving never ends. Sage words to live by.
Not a Simulation Racer:
The Super Mario Kart series is definitely not a Simulation Racer. In fact, none of the kart racing sub-genre is. I don't know about you, but I find this incredibly sad. By now pretty much every company and character has been part of a kart racing game, from Solid Snake to Pac-Man to WWE wrestlers to a bunch of Homiez dolls. Yet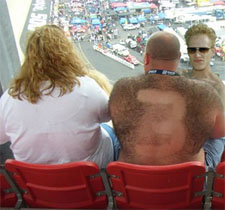 With a picture like this, I don't think I need to say a damn thing about the state of NASCAR!
none of these games have been a Simulation Racer. Maybe it's just me, but I wouldn't mind seeing a company take this genre seriously and give us a kart racing simulator, something that lets you really tweak the four or five parts of a go-kart.
Then vs. Now?
Like the sports genre, the whole point of the Simulation Racing genre is to be as realistic as humanly possible. To accomplish this they are using complex physics, millions of polygons and every other tool they can get their hands on. It's hard to go back to the original Gran Turismo. No matter how good it was at the time, it feels dated and antiquated by today's standards. If your idea of fun is customizing cars and racing on hyper-realistic race courses, then there's no question that this genre is better now.