It's the time of the year when the days get shorter, retailers stay open longer, big games are released and there seems to be a holiday every other week. Defunct Games wants to ring in this festive season with a look at back at some of video gaming's most questionable power-ups. Join us from November 28 to December 25 for a month of floating orbs, life extenders and special cloaks.
Top Spin
[ Game: Mega Man III | Year: 1990 | Console: Nintendo Entertainment System ]
We would need more than 29 days to go through all of the questionable power-ups in the Mega Man series. Thankfully, we don't need a full month, because one stands high above as the worst. Found in Mega Man III, the Top Spin is the Blue Bomber's most frustrating power-up. Find out why when you watch this video about Top Man.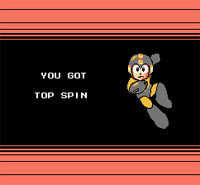 Top Spin (Mega Man III)
Purpose:
This power-up doesn't even sound good on paper. Push the button and spin around, just like a top. You know, the toy your grandmother got you instead of a Sega Genesis? Unfortunately, the top move only works if the enemy is about to hit you. This makes the timing tricky, leading to a lot of accidental hits. What's more, the spin actually pushes the player backwards, which can be deadly if you're standing next to a bottomless pit.
Legacy:
Top Man would show up in later Mega Man adventures, including Super Adventure Rockman, Mega Man Soccer and Mega Man II on the Game Boy. Thankfully, the dreaded Top Spin move never found its way into another game. You can watch Top Man spin himself silly, but this power-up is only found in Mega Man III.
In Real Life:
Spinning makes about as much sense as a head-butt. Oh sure, you might hit a few confused people as you spin around like a fool, but things get dicey after that. For one thing, you're suddenly dizzy and disoriented. Also, there are angry people coming at you, knowing that you can barely see straight. At this point the bottomless pit is sounding pretty good.