It's the time of the year when the days get shorter, retailers stay open longer, big games are released and there seems to be a holiday every other week. Defunct Games wants to ring in this festive season with a look at back at some of video gaming's most questionable power-ups. Join us from November 28 to December 25 for a month of floating orbs, life extenders and special cloaks.
Speed Shoes
[ Game: Sonic the Hedgehog | Year: 1991 | Console: Genesis ]
When it came to designing power-ups, the creators of Sonic the Hedgehog were stumped. What kind of power boost do you give a guy who is already incredibly fast and agile? Yuji Naka answered that question by making Sonic even faster. As this video shows, the Speed Shoes are a terrible idea and one of the worst power-ups of all time.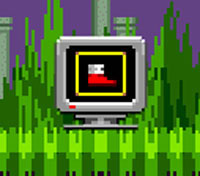 Speed Shoes (Sonic the Hedgehog)
Purpose:
Just like the name suggests, the Speed Shoes are designed to make Sonic faster. The problem with this plan is immediately obvious to anybody with an understanding of how platformers work. Sonic not only runs fast, he becomes nearly uncontrollable. This sends our hero running face first into spikes, falling down bottomless pits and tripping over enemies.
Legacy:
Despite being a thorn in the side of millions of gamers around the world, the speed shoes are here to stay. The good news is that Sega has managed to adjust the level designs around the speed shoes, turning them into a strategic item. You'll still run into problems when replaying older Genesis titles, but I would argue that this ill-conceived power-up has been redeemed.
In Real Life:
If you've seen a shoe commercial in the last decade, you already know that most shoes are designed to make you run faster, jump higher and be an all-around better athlete. Unfortunately, none of this works. Deep down you know it's not about what shoe you put on. In your heart you know there's only one way to make you faster -- steroids.