It's the time of the year when the days get shorter, retailers stay open longer, big games are released and there seems to be a holiday every other week. Defunct Games wants to ring in this festive season with a look at back at some of video gaming's most questionable power-ups. Join us from November 28 to December 25 for a month of floating orbs, life extenders and special cloaks.
Dinosaur Meat
[ Game: Bonk's Adventure | Year: 1990 | Console: TurboGrafx-16 ]
It took us more than two weeks to get to a TurboGrafx-16 game. I don't know much about Bonk from playing his HuCard trilogy, but I do know that he loves dinosaur meat. In this episode of the 29 Questionable Power-Ups of Christmas, we make a compelling argument for why Bonk should stick with veggies.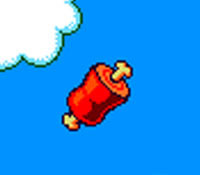 Dinosaur Meat (Bonk's Adventure)
Purpose:
Much like the
Super Mushroom
from Super Mario Bros., the Dinosaur Meat works as a way to increase Bonk's strength. If he eats enough meat, our caveman hero becomes invincible for a short while. And did I mention that his head explodes every time he eats the dino meat? I'm not sure what the purpose of that is.
Legacy:
Meat found its way into all of Bonk's adventures, including the two TurboGrafx-16 sequels, as well as the Nintendo Entertainment System, Game Boy and Super NES titles. Bonk had a brief revival in 2006, thanks to Bonk's Return on cell phones. Let's just assume that version also had meat.
In Real Life:
He may need to buy some new clothes, but Bonk would fit in perfectly sitting next to the overweight, meat-sucking masses found in the United States. This is a culture that celebrates both the quantity and speed of your meat consumption, often with prizes and fame at the end. Bonk was born too soon.