Quote 5: In the Future Gameplay Will Be Futuristic!
"Game play itself will evolve, becoming more experimental, more personalized, more interpersonal, more challenging, more interactive and ... well ... more, more, more!"
Reality:
As we go through these predictions it's important to remember that GamePro was talking about the year 1999, not our current 2009. I bring this up because in the last 15 years gameplay has indeed involved. These days you have the touch screen support of
16 years after GamePro predicted evolved gameplay, Sony will introduce a control with a ball on the end!
the Nintendo DS and the Wii's motion controls. And let's not forget about the Sony EyeToy, all of the fake plastic instruments, the upcoming Natal and the motion control that Sony is promising. In other words, by 2009 gameplay has evolved into something almost unrecognizable to those Super NES users of 1994.
But this prediction isn't about 2009 ... it's about 1999. By 1999 gameplay really hadn't changed that much. Sure there was the rumble pack and everybody used at least one analog stick, but we had seen companies toy with these type of advancements before 1994. I'm sure that Dreamcast owners would argue that many games became more experimental and thanks to online gameplay everything became a little more interpersonal. The invent of 3D polygons and realistic physics also aided in making games more interactive. But GamePro was wrong about one thing, video games of 1999 were not more challenging. Thanks to checkpoints and unlimited continues, modern games have become significantly easier. Even the hardest game of 1999 is a cake walk when compared to the original Contra or Ninja Gaiden.
Quote 6: In the Future People Will Like VR
"Virtual reality will be more of a reality and less of a fantasy, making for more realistic gameplay experiences."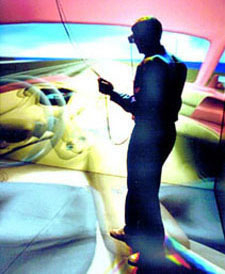 Like this ... only with fewer mind altering drugs in your system!
Reality: In the early 1990s, Virtual Reality was the next step in video game realism. You saw it in movies like The Lawnmower Man and touted in magazines as the obvious next step. Heck, even Sega and Atari had their own proposed (although never released) VR headsets, and Nintendo went one step further and released a faux-virtual reality "portable" called the Virtual Boy. It was clear that everybody was virtual reality crazy in 1994.

However, by 1999 nobody seemed to care about the promise of virtual reality. Instead we had online first-person shooters on the computer and realistic 3D graphics on the Dreamcast. Who wants to put a bulky headset on when you could get the same rush out of playing Quake III or Half-Life? Here we are fifteen years after this prediction and I bet you can't even remember the last time you thought about virtual reality. It's a complete non-issue, thanks in large part to motion controls that are fulfilling the promise of a "more realistic gameplay experience."
Quote 7: In the Future Online Gaming Will Explode!
"Expect more multiplayer gaming, especially with the predicted explosion of online services."
Reality:
Here's an example of GamePro missing the prediction by only a couple of years. While computer gamers enjoyed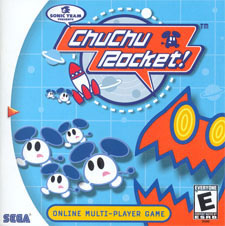 While it wasn't much of an explosion, Chu Chu Rocket was a lot of fun online!
playing Doom and other shooters online in the mid-1990s, it took the console makers a few years to catch up. The Dreamcast, for example, didn't offer online gaming until the year 2000. But while the Dreamcast dabbled in the online marketplace, it wasn't until Microsoft (and Sony, to a much less extent) introduced their Xbox Live that the idea of online gameplay really exploded.
To GamePro's credit, there were a number of companies that attempted to bring online gaming to the home consoles. In the 16-bit era you had the X-Band, a device that allowed both Super NES and Genesis owners to play against people online. In 1995 Atari had planned on releasing a Jaguar modem. And of course Sega had their NetLink, a low-selling add-on to the Sega Saturn. In this regard GamePro is correct, there certainly was more muliplayer gaming and online services, they just didn't catch on until the start of the 21st century.
Quote 8: In the Future Girls Will Like Games!
"Although the biggest game players will continue to be teenage guys, we'll see more and more girls and adults enjoying electronic entertainment than ever before."
Reality:
Thanks to the PlayStation and Sega Saturn, by 1999 the biggest gaming market was in his twenties. Since then that age has continued to rise,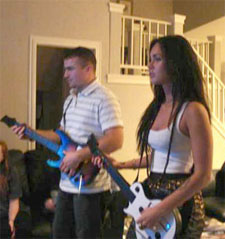 She may not be able to act, but Megan Fox can rock at Guitar Hero III!
thanks in large part to mature games like Grand Theft Auto and Halo. Of course, teenagers are still a large target for game companies, so it's not like the numbers have been completely reversed. However, by 1999 the clear push was for older teens and adults.
Over the past decade women have become a huge market for game companies. Polling shows that there are a significant amount of older women playing MMO games and a lot of younger girls own at least one Nintendo DS. We also see a lot of growth in the casual game market, which is introducing a lot of non-gamers into this wonderful pastime. Say what you will about the Wii's software line-up, but it's clear that Nintendo has done an excellent job of broadening the market, making games a mainstream activity enjoyed by more than just teenage boys. Games are for everybody. GamePro may have been right in their prediction, but I doubt they could have guessed that this industry would become so broad and diverse.