Quote #6 - X-Box on the PC (Part 2)
"There is no current library of specific X-Box titles announced, but soon after the system is announced the first X-Box enabled PC games, which should run on box X-Box and PC, will be released. By the 2000 holiday season, some expect most PC games to be X-Box compliant." - NEXT Generation (December 1999)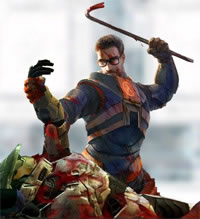 You can't play Half-Life 2 on the original Xbox ... oh wait, I guess you can!
Reality: By the end of 1999 there were a number of Xbox games announced ... they just weren't announced for the Xbox. Take Halo as an example, here's a title that went on to become one of the biggest launch games of all time. Yet, in 1999 the game was slated to come out on the PC (with Bungie talking about a PlayStation 2 port). Same goes for Malice, the much-delayed game from Argonaut that was intended to be a PlayStation 2 exclusive, but later switches ships and found its way to the Xbox. The truth is, we knew about many of the third party Xbox launch titles, we just didn't know that they would also hit Microsoft's console.

Now, let me continue to stress this, there is no such thing as Xbox enabled PC games. There were PC games that also hit the Xbox, but there was not compatibility between the two. The idea that "most" PC games would be Xbox compliant is ludicrous, and the fact that NEXT Generation reported this as news is appalling. What's even more shocking is the suggestion that perhaps there wouldn't be any Xbox games at all, they would just be PC titles that were compatible. What really happened couldn't be further from the truth, and I have a hunch that the news writers at NEXT Generation felt pretty stupid when Microsoft officially announced the system a few months later.
Quote #7 - Wireless TV Cables?
"What better than a DVD-playing. web-surfing, game-playing super-console? How about a DVD-playing, web-surfing, game-playing super console that can work wirelessly on any TV in your home? That's apparently the latest feature added to the still-in-development box, and it makes a lot of sense; you want X-Box attached to your main TV for DVD moves, but what do you do when your spouse wants to watch Ally McBeal, and you want to play Quake III?" - NEXT Generation (February 2000)
Reality:
What's better than DVD-playing, web-surfing, game-playing super-console? How about a game magazine that gets the facts right. Yes, the Xbox played DVDs (after you bought the remote) and games, but at no point did the Xbox (or the Xbox 360, for that matter)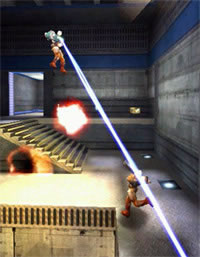 Look, it was either a picture of Quake III or wireless component cable, I chose the slightly more interesting game picture!
go "web-surfing." You can play games online and download new content, but calling that web-surfing is a gross mischaracterization of what the system can actually do.
Sadly the web-surfing is the least of my worries. In a move that is hard to believe even nine years later, NEXT Generation suggested that you would be able to play games on any TV via a wireless set-up. That is, the information would be beamed into your TV set. And, according to NEXT Generation, that feature "makes a lot of sense." They also get into a weird thing about Ally McBeal and playing Quake III on the Xbox (even though Quake III never actually made it to the Xbox).
Now, I'm sure I don't even need to say this, but the Xbox does not have a wireless hook-up. Heck, it doesn't even have a wireless internet hook-up out of the box, and that's the thing that would actually make sense. Here we are nine years later and we still don't have any game consoles offering us the ability to hook the fun up to the TV wirelessly. Is that even possible? Are there wireless HDMI cables? And again, let me remind you, this is NEXT Generation - one of the most trusted names in gaming journalism. No wonder print media is dead.
Quote #8 - Death to the PC!
"We've got a really, really miserable PC market, and it's not getting any better. I'm going way out on a limb, but I think the PC is going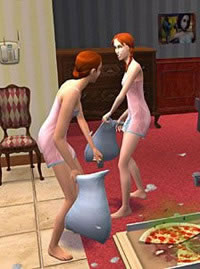 If you don't count the success of The Sims, Crysis, World of Warcraft and a dozen other games, then yes, the PC industry is dead!
going to cease to be any kind of viable platform within the next 18 to 24 months. It's going to be completely supplanted by Microsoft's X-Box or whatever else. I think Microsoft, if the X-Box is real, is basically raising the flag and saying 'We're seeing a huge problem on the PC side.' There are just so few games that do anything on PC." - Next Generation (March 2000)
Reality:
You heard it here first, folks. The PC games market is dead. Kaput. Toasted. Unviable. Defunct. Long live the Xbox, the ruler of all video game consoles. Let us worship our new video game overlords, Microsoft's Xbox. Oh wait ... no, that's not right. Because nine years later the PC market is very much alive and well. It's hard to argue with the success of World of Warcraft and The Sims, and even now we're seeing huge hits like Crysis,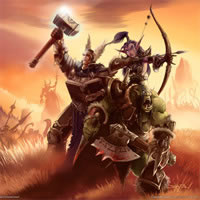 World of what?
FarCry, Left 4 Dead, Fallout 3 and more. Steam now allows us to buy games digitally, check up with classic titles and see what our friends are up to. Online MMOs have revolutionized the way PC gamers view role-playing games. Even small game companies are supporting the PC. The PC market is far from dead.
Now, there's one thing that is definitely true about this quote. NEXT Generation is right, the Xbox was Microsoft saying that they saw a problem with PC gaming and didn't want to be a part of it. While they may debate the point, it's hard to argue that after moving to the console they lost all interest in PC gaming. They stopped releasing big games almost immediately, and even today when they have a PC release it's usually a port of a year-old Xbox game. Microsoft has completely tuned out ... at least for now.
Quote #9 - From X-Box to Xbox to XBOX
"And like any good name, it came about by accident. Xbox (formerly X-Box and currently - and officially - XBOX) was a code name referring to both the mysterious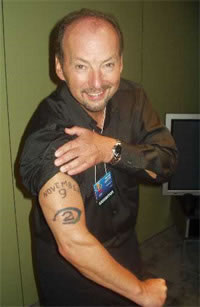 In a world without an Xbox, Peter Moore would have a lot fewer tattoos!
nature of the letter X and, of course, to Microsoft's own DirectX technology. So like many a code name before it, Xbox stuck." - NEXT Generation (September 2000)
Reality: You have to love how NEXT Generation points out that the console's name is, officially, XBOX (all caps), yet they then go on to continue to spell it "Xbox". At least they decided to throw out that hyphen. I say they should bring back the hyphen for the next console, it should be the X-Box 720 or something. Then again, if you believe Michael Pachter, this will be the last console generation. I still say bring back the hyphen, if only to vex all of those games journalists that had to switch from X-Box to Xbox to XBOX.

What troubles me about the name "XBOX" is that it comes from "X" being a mystery. I guess that everybody born in my generation, Generation X, is mysterious. Or that the game Revolution X was mysterious and intriguing. Well, it's not true. There's nothing mysterious about Generation X. We're the same greedy douche bags that came before us (and came after us). And the only thing mysterious about Revolution X is why anybody would put a quarter in an arcade unit to listen to Aerosmith music and shoot CDs at people (or why anybody would think it was a good idea to make such a ludicrous game). "X" isn't mysterious, it's overused. Xbox. PlayStation 2. GameCube. Seriously, when it came to console names, that generation was the worst. It was as if everybody was bereft of creativity. The Wii may not be the coolest name I've ever heard, but at least it doesn't have a number after it!