Iron Tank: The Invasion of Normandy is a great little tank game for the Nintendo Entertainment System. In was created by SNK in 1988 and the graphical style is very similar to Konami's Metal Gear for NES. That's a good thing: The graphics are sharp and clear and the army colors of the environment and vehicles do a great job creating a sense of warfare. The music and sound effect are nothing out of the extraordinary, but are decent too.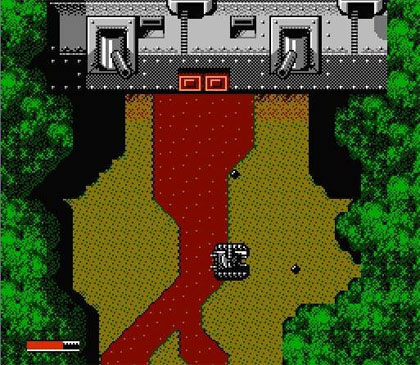 In Iron Tank you control a tank (as you might have guessed) and have to steer this robust war machine through levels from the bottom of the screen to the top. All kind of enemies - ranging from infantry to tanks to armed trains to plains - pop up to stop you, but luckily you're well-equipped. First of all you have a simple machine gun that is useful against infantry. However, it's also possible to run those soldiers over (which even gains the player health), so it isn't really necessary to use the machine gun. Secondly, of course, you have your tank cannon, that you have to use to take out other tanks en vehicles.
The controls are tight, though you might have a little problem aiming decently. The cannon stays focused in a fixed direction between firing. This can be helpful when you're driving in other direction than you want to shoot, but many times it's a problem, because it's a little hard to get the cannon in the right direction rapidly - and that's really needed when a lot of enemies appear on screen.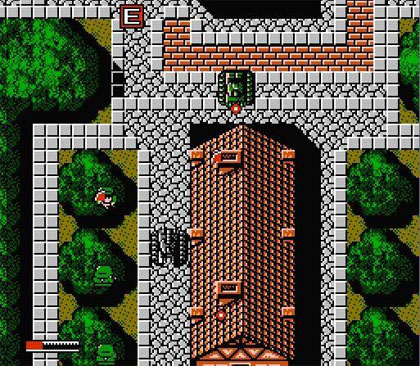 Like most games of the 8-bit era, Iron Tank is pretty hard. Before you know it, tons of enemies are shooting at you. Especially the bosses - usually huge and fast moving vehicles - are nearly impossible. Luckily the space between space points seems fair and there's a password system.
Overall, Iron Tank is a good challenging game. It looks pretty good for an early NES game and, despite its hardcore 8-bit difficulty, it's still fun to play.