On my quest for WonderSwan Color games that are in English (or at least playable despite being in Japanese), I found Run=Dim: Return to Earth. I'm not sure what Rum=Dim is, but as far as I can tell you now, it's a Japanese anime-series with Mech-like warriors. As you'd expect, in this game you control a flying MechWarrior-like ships and blow stuff up. Who can resist that?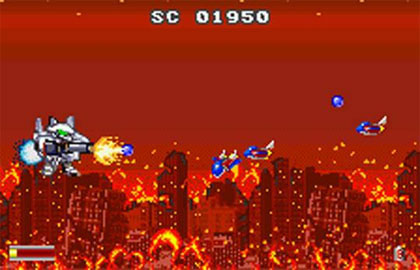 Basically, Run=Dim is just your average horizontal shoot'em'up. After skipping the endless Japanese dialogue as fast possible, players find themselves controlling their own flying Mech in a pretty good-looking and colorful environment. One button lets you shoot and the other summons some kind of power-up, it's the kind of thing we've seen countless times before. Enemies are in the air (planes, rockets) as well as on the ground (tanks). The in-between Japanese dialogue is pretty elaborate, but luckily it can be quickly skipped. What's more, I didn't feel I was missing anything essential.
The control feels tight enough and the sound effects are decent. On the other hand, the music is horrendous. Like many other WonderSwan Color releases, it drove me insane right from the start. Maybe that's because my European musical proclivities just doesn't "get" the Japanese music scene. But more likely it is because the WonderSwan has problems producing decent sound.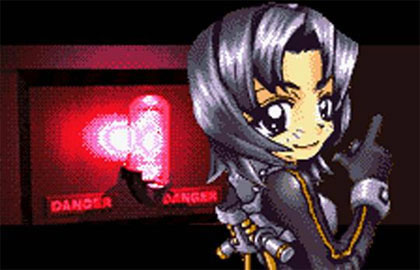 All in all, Run=Dim: Return to Earth is a very good looking WonderSwan Color-game, but the gameplay just feels very uninspired. It's also very short: if you're good, you can finish it in half hour. I also have to knock some points of for the horrible music that ruins much of the fun. Nonetheless, it's a decent choice if you want a WonderSwan game doesn't require you to learn Japanese. Just don't except the same awesome quality as from Judgement Silversword, which remains the must-have shooter for the WonderSwan Color.