Cyril reviewed
Gunpey for the black and white WonderSwan
a while ago and this time I'll check out its remake, Gunpey EX for the WonderSwan Color. As Cyril already noted in his review, Gunpey is a puzzle game named after the late Japanese game designer Gunpei Tokoi who thought of the simple, but thoroughly involving concept.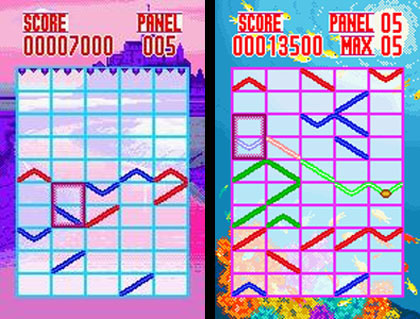 In Gunpey you see a field of square pieces. From the bottom of the screen new square pieces with all kind of lines (horizontal, vertical, wave-like etc) pop up. You have to switch the square pieces so that they form a continuous line from the left to the right side of the screen. Do this and they will magically disappear. No square pieces with lines within it are allowed to reach the top of the screen. The idea is as easy as it sounds, but turns out to be pretty addictive.
The main difference with the Gunpey edition for the original WonderSwan is that Gunpey EX for the WonderSwan Color is .... in color. (You probably guessed that, right?) Square pieces now come with lines in multiple colors and if you manage to create a continuous line of the same color, it will give you (seemingly useless) bonus points. Strangely enough, the story mode has disappeared. The modes that remain are the pretty self-explanatory Endless, Stage, Puzzle, Time Attack and Free.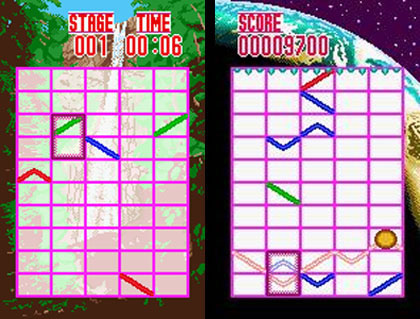 The graphics of Gunpey EX are very simple, but functional. The music is awful, as I have become used to for a WonderSwan Color game. The control is in line with the graphics -- simple and functional. The game also gets additional credits for being one of the few WonderSwan Color games that's entirely in English.
All in all, I liked Gunpey EX a lot. It's not as brilliant and addictive as some other classic puzzle game like Tetris, Yoshi's Cookie or Puyo Puyo -- but it comes pretty close.