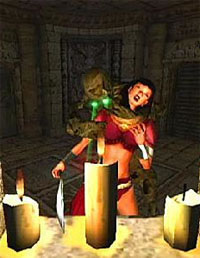 I'd rather show a good Silicon Knights game than have to prop up Too Human!
These days every website has a podcast, from GameSpot to IGN to 1up. But how many people actually have the time to listen to all of those podcasts? Well, Defunct Games does, and we're here to tell you what's good, what's bad and what's just plain ridiculous! We're here to comment on everything we disagree with, pull things out of context to make others look like fools and introduce you to the many wacky moments you would have otherwise missed. And in this episode we show you exactly why a podcast dedicated to Sonic the Hedgehog is a bad idea! That's just one of the many reasons why you will want to check out this newest episode of Radio Free Gaming!

In this newest episode of Radio Free Gaming we only have time for three podcasts, but what we lack in quantity we make up for in quality. In today's episode of Radio Free Gaming we spend a surprising amount of time looking at EGM's podcast, who played host to Denis Dyack, the founder of Silicon Knights (Eternal Darkness, Too Human). From the very first moments of this podcast it's clear that Denis was on the attack, and what transpires is definitely over-the-top. Is Denis a little too self indulgent? Is it that he's fond of hyperbole? Does he attack journalist's personal bias? Or is it all of the above? And just when you've grown tired of listening to Denis grumble about some ugly review, we switch gears and check on our friends over at Next Generation and the Games For Windows podcast. We have an exciting show for you today, so join us in our longest episode of Somebody Else's Podcast ever! Don't you owe it to yourself to see just how crazy Denis Dyack really is?
Episode 9 - Somebody Else's Podcast! Vol. 3
00:00:00 - Introduction to Radio Free Gaming
00:01:23 - EGM Live*: Everybody v. Denis Dyack
00:18:10 - Games For Windows: Another Hero from the Internet
00:21:15 - Next Generation: Technical Difficulties

(Technical Information: Somebody Else's Podcast! Vol. 3 runs for 22:59
at a size of 16.2 mb zipped or 16.3 mb unzipped.)