In theory the button presses are supposed to correspond with the action on screen. That is, you'll be told to push up when you need to jump or right when you need to jump out of the way of a boulder. Unfortunately, the game doesn't always play by the rules. There are more than a few questionable buttons presses, and it's next to impossible to know what the game is asking without the guide on. Even with the game telling you what button to press, you only have a split second to act. It's a stressful experience where you spend the entire game looking for arrow prompts.
The real crime isn't that the interaction is reduced to nothing more than timed button presses, but rather that the player never gets a chance to enjoy the stunning artwork in front of them. You're so busy paying attention to the guide prompt that some of the best moments just buzz right by without a notice. This is one of the few times where it's better to be person watching somebody else play.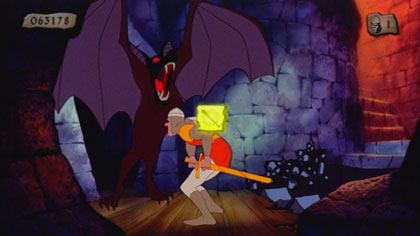 The guide prompts offer their own unique set of frustrating problems. For one thing, the prompts don't stand out from the background. I lost far too many lives not knowing what button to press because the arrow blended in with the artwork. The timing is also screwy, with some prompts lasting longer than others. It doesn't help that the limited gameplay makes it hard to connect with any of the action on screen. There came a point where I was only playing to see it through, not because I was having fun.
The big gimmick for this Xbox Live Arcade port is the Kinect support. Here you'll jump from side to side, forwards and backwards in an attempt to interact with the action. This is goofy for a few seconds, but the Kinect inconsistencies and nonsensical actions get old quickly. Dragon's Lair was simply not designed for this style of motion control. Thankfully you aren't forced to use Kinect.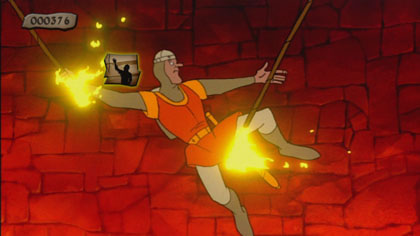 Once you've completed Dirk's daring mission, there really isn't a whole lot left to do. Players are giving a couple difficulty settings and a choice between the original arcade version or console rules. Sadly, these modes don't dramatically change the game, so you're stuck playing the same boring game once again. The achievement points do their best to offer incentive for multiple play-throughs, but there's no way I'm going to go through the entire game with the guide prompts turned off.
Dragon's Lair is an important game that everybody should play at least once; however that doesn't mean you should buy this Xbox Live Arcade release. Sure it looks pretty, but it won't take long until you realize that this thirty year old arcade game is about as interactive as a DVD menu. And just like the good old arcade days, you're better off watching somebody else play Dragon's Lair.