Chuck E. Cheese's Arcade Room
After each game you are rewarded a few tickets and a star rating. The better you do the more stars you earn. With five games to choose from, Chuck E. Cheese's Arcade Room offers a total of twenty possible stars. This is the extent of the arcade room. Once you've earned all twenty stars there is little left for you to do. The even bigger problem? I earned five stars on three of the games on the very first try.
But don't worry, there's still something for you to do after you've earned all twenty stars. The game offers a challenge room to lengthen the experience. This mode gives you a very specific goal to accomplish on all five of the mini-games. Much like the rest of the game, there's barely enough here to call it a mode.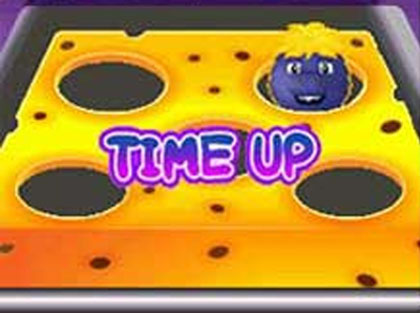 When you aren't trying to complete totally inane challenges, then you're probably off earning more tickets. In true arcade fashion, it takes a long time to earn enough tickets to buy anything good. In Chuck E. Cheese's Arcade Room you exchange tickets for articles of clothing. These hats and shirts add new attributes to the player, allowing you to earn tickets faster and have special advantages in the mini-games. It's not a terrible idea, too bad the games themselves aren't more entertaining.
Worst of all, the one thing that would have made this game competitive is nowhere to be seen. The game likes to give out stars for high scores, but there's no way to see how your scores compare to everybody else. Heck, the game doesn't even save your high score locally. This seems like a major oversight for a game trying to emulate the arcade experience.
It's important to remember that this is a simple five dollar mini-game collection aimed at young kids. Will the target audience have a better time playing Chuck E. Cheese's Arcade Room than I did? Undoubtedly. But that doesn't mean that they should have to put up with such a lame collection of middling mini-games. Of the five available games, I only found the racing mode to be worthwhile. And even that gets old after the second play through. The writing is on the wall: I'm too old for Chuck E. Cheese's.