Furthermore, I found most of the gunplay to be middling at best. It's not that the aiming is bad or anything, but rather that we're treading familiar ground. I've shot soldiers before in countless other third-person shooters (most recently in Deep Black: Reloaded), so the only thing new here is the addition of zombies and mutant monsters. Towards the end of the game I was through shooting soldiers, instead choosing to simply run from one checkpoint to the next dodging everybody in my way.
Of course, all of the large-scale battles are better when you have friends involved. I can see this being a lot more fun if you're playing with a group of strategic thinkers with good communication skills. But even then, the campaign is no more than four hours long and the whole experience is as anticlimactic as a game can be. The developers aren't quite sure how to end the game, especially when there aren't any real bosses to speak of. The closest they get is a tough battle against two Tyrants, but that comes before the final level and feels tacked on to hit that four hour mark.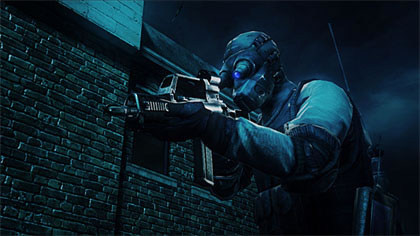 Thankfully the competitive multiplayer modes are slightly more exciting. Sometimes you'll be working together to kill zombies and other T-virus baddies, while other times you'll be fighting against each other with these undead villains as collateral damage. There are a few inspired modes, such as one where all players are trying to get to a rescue helicopter with only four available seats. This is fun because you have to work together right up until the point everybody gets selfish and will do anything for one of those four seats.
Despite a few good ideas, Operation Raccoon City's multiplayer pales in comparison to Left 4 Dead and its sequel. Outside of the third-person perspective, there's little here that feels specific to the Resident Evil franchise. Scrub off a few Umbrella references and this could have been any one of the countless zombie-filled action games of the last few years. Resident Evil deserves better.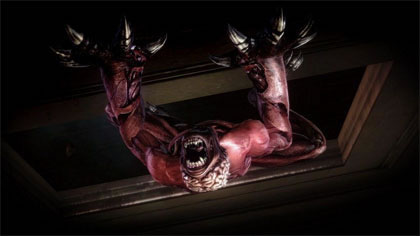 Even if the combat was always exciting and the play mechanics were better, that still wouldn't make up for the pitch black graphics. I'm not sure if the developers realized the game wasn't very pretty or what, but they have decided to make the game as dark as humanly possible. I had to turn both the game and my television's brightness up just to make out what was going on. It's hard to appreciate the level designs when they're shrouded in the darkest blackness I've ever seen.
Sadly, the graphics aren't much better when the brightness is all the way up. The character designs look good, but there are a lot of repeating backgrounds and zombies. Apparently all of the cops in Raccoon City look identical, because you'll be seeing a lot of that one zombie police officer over the course of the night. It feels like there were a lot of corners cut in order to get this game to retail, which is probably why the game's default brightness is set to barely visible.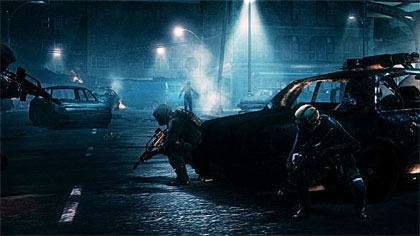 Despite the game's poor presentation and boring campaign, I can't help but think that there are a few good ideas in Operation Raccoon City. The problem this game has is that it's too closely aligned with Resident Evil 2's storyline, all the way down to saving Leon Kennedy's life at one point. There are great moments here, but not enough to warrant a full game. It would have been more interesting to see this squad bounce from one outbreak to the next. Perhaps they parachute to the Code Veronica island or take a trip to Europe and fight the not-zombies from Resident Evil 4.
Between the boring characters and simplistic story, I was letdown by Operation Raccoon City. It has a few good ideas here and there, but not enough to keep my attention for long. Even the multiplayer is marred by some bad checkpointing and questionable gameplay mechanics. Fans of the series are better off waiting a few months for Resident Evil 6.