Much like Burnout, there's a Frag Attack mode. This is little more than destroying as many cars as possible in a short amount of time. You do this using everything from your standard vehicle to 18-wheelers to cop cars. There's also a Time Attack mode, which forces players to avoid complex obstacles in order to make it to the finish line in time. This mode feels a lot like a polished version of Trackmania, only without the crazy Russian techno. The final mode is a Drift Challenge, but the less said about that the better.
Even people that hate racing games know that Ridge Racer's one defining gameplay mechanic involved a lot of unrealistic drifting. While Unbounded still allows for drifting, it feels nothing like past Ridge Racer games. The cars in this game feel a lot heavier, which means that you'll have to coddle them as they drift around corners. If you don't do it just right, you'll find your car spinning in circles. It takes some getting used to, especially if you're somebody who came into this expecting an old fashioned Ridge Racer experience.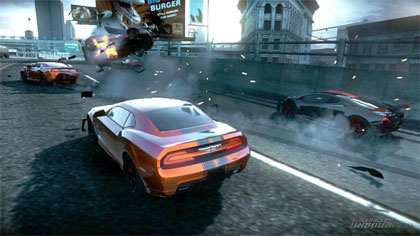 As you progress through Shatter Bay's nine districts, you'll earn brand new tiles that can be used to create custom courses. These are the tiles used in the game's single-player campaign, so you'll end up seeing some of the same obstacles and backgrounds repeated in countless events. As you play through the game you'll start to see how everything is sewn together, which ultimately makes the city less memorable than Burnout's Paradise City or Hot Pursuit's Seacrest County.
Also frustrating is how similar everything looks in Shatter Bay. The dark tone and urban environments stick with the game from start to finish. There's never a moment where you're racing in the hills or next to a large lake, it's always through city streets and passing large skyscrapers. Part of the reason for this is the mix-and-match style levels, but even then there should be a lot more variety in Ridge Racer Unbounded.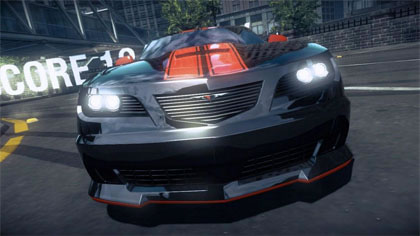 I also have a few complaints about the various modes, none of which are especially creative or original. A lot of early races are marred by unpredictable car accidents. There are too many times where I tried to ram a car off the street only to find myself fragged. Worse yet, I found myself crashing for no reason early on. It's not that I would hit a wall, but rather somebody randomly smacking my car in the final seconds of a race. These complaints aren't exclusive to Ridge Racer Unbounded, but I definitely felt like I saw them more here than in other racing games.
It's also worth mentioning that the Frag Attack doesn't always work the way it's supposed to. For one thing, players will need to manually skip the lengthy animation if they actually want to smash up 25 cars and get first. But the real problem is when you hit a car multiple times without destroying it. Sometimes all it takes is sideswiping an opponent, other times it requires multiple direct hits. There's neither rhyme nor reason to the way the AI takes damage, which can be especially annoying when time is tight. You'll know whether or not you have to restart the entire event within the first 15 seconds.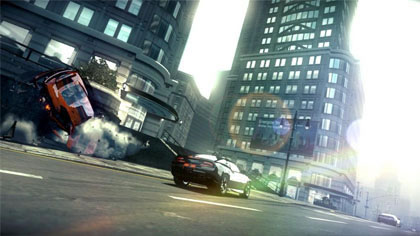 Those minor gripes aside, I had a great time playing Shatter Bay both online and off. The game has a rich multiplayer mode and tons of high-quality downloadable cities to explore. It's even fun creating your own courses, even if there are a few hiccups along the way. The game's visuals are sharp and full of detail, regardless of how many times you've see the same tile reused. Unfortunately I found the music selection annoying at best, but that isn't an issue when you can add your own custom soundtrack.
Ridge Racer Unbounded is a great new direction for the long-running franchise. It's not what die hard Ridge Racer fans have been asking for, but that shouldn't keep you away from experiencing a solid (albeit unoriginal) action/racing game. There's enough content to keep players coming back for months, making this a strong value despite its flaws.