In a lot of ways this reminds me of early Metal Gear Solid games, where the player is forced to pay attention to their surroundings and strategize attacks. Sometimes this means hiding in an inanimate object until the guard turns around, other times it's to set up diversions to draw the enemies away from where he needs to go. Things never get as complicated (or silly) as Solid Snake's missions, but fans of the long-running stealth series will get a lot out of Warp.
Because you're so afraid of getting caught, this sets up a number of unique puzzles the player must solve in order to make it out unscathed. Sometimes it's as simple as moving a ball around a maze, while other times you'll have to use the enemy's stupidity to take out explosive power stations. Traversing the game's large world is made even harder thanks to the overabundance of water -- our hero's kryptonite. Thankfully there's always a way around, these obstacles, but the player will have to be smart enough to figure out the best solutions.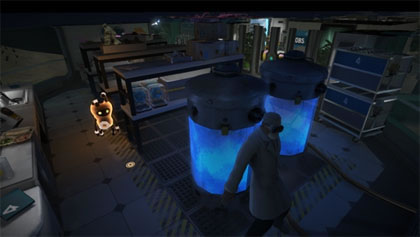 The action is seen from an overhead perspective, allowing the player to quickly survey the environment. This works perfectly fine, though might not be the most visually satisfying way to tell the story. Speaking of story, there really isn't much of one in Warp. Outside of the occasional one-sided conversation you have with the other telepathic alien hostage, there really isn't a whole lot of time for character development. The emphasis here is tense action and increasingly difficult puzzles. Still, by the end of the game I felt something for the unlucky alien.
Despite the promise of enemy guards exploding into little pieces, Warp's visuals are modest at best. There are a few graphical tricks tossed in the different parts of the base, but it's not the kind of thing you'll want to tell your friends about. The developer is hoping that the various puzzles (most of which have multiple solutions) will be enough to keep you playing from start to finish. Having said that, it would have been nice to see a little more variety in the backgrounds.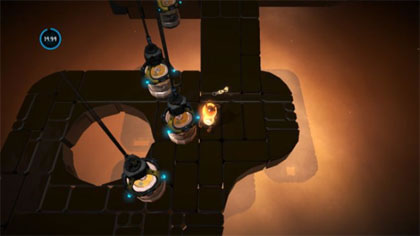 Our hero has more to do than simply escape the prison he got himself into. It turns out that there are a bunch of challenge levels that test your speed, accuracy and knowledge of this alien's moves. These can be picked up along the way (literally stopping the action until you either complete the challenge or die), as well as played later from the main menu. The way these stages look and feel comes directly out of Metal Gear Solid's VR Missions, suggesting that the team that made Warp has a thing for Hideo Kojima games.
While Warp does eventually run out of good ideas, the game is compelling enough to keep your attention for the full running time. It's a nice diversion from all of those games where you play space marine shooting down everything that's not human. I definitely want to see more of this trend, especially if the games are as good as Mutant Blobs Attack and Warp. Despite only being a few years old, Trapdoor is a developer I plan to keep my eyes on.