While most 2D shooters go out of their way to avoid a storyline, Sine Mora has an incredibly deep (albeit dark) storyline. Each chapter opens and closes with a full page of text, narrated in a language I did not recognize. It talks about the murder of a son, the complete genocide of an alien race, rape and other weighty topics. The tragedy-driven storyline is more akin to a Lars von Trier film than a 2D shooter. Despite the colorful graphics and simple gameplay, this is not light like StarFox.
The revenge story manages to take this exciting shooter and turns it into something you absolutely must play. The writing is so good that you can't help but want to see how it concludes. This is one of the few games that isn't afraid to delve into such harsh territory, something I never thought I would respect from a side-scrolling shoot-em-up. The story doesn't play out as cleanly as you might expect, a nice tough from a company known for their strong (and often weird) storytelling.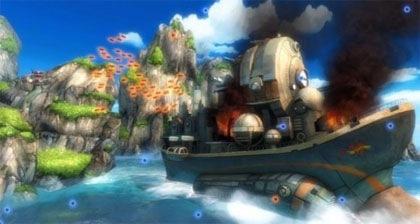 The game's half dozen stages run the gamut from cityscapes to a robot factory, from the high up mountainsides to the deep ocean floor. These stages aren't exceptionally long, instead acting like an opening act to the headliner. We've all come to see the brilliant bosses created by Mahiro Maeda, anime artist who has worked on Neon Genesis Evangelion, Kill Bill and The Animatrix. These bosses do not disappoint. You'll fight off a huge Godzilla-sized monster terrorizing a city, an out of control train, a giant wrecking crew robot and more. And if that's not enough, late in the game you'll run into a spinning maze that is unlike anything I've ever seen before in a horizontal shooter.
All this comes to life with the game's amazing graphics and theatrical soundtrack. Despite it being a 2D action game, Sine Mora employs polygons to accentuate the game's stunning art style. There is so much happening in the background that it's hard to keep track of what you're supposed to be dodging. But at the same time it's never so busy that you feel cheated. The incredible graphics are made even better with the use of the Akira Yamaoka (the Silent Hill series) soundtrack. From a technical, artistic and aural standpoint, Sine Mora delights.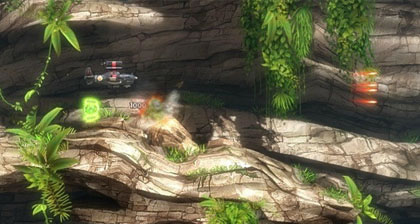 Sadly, some things will never change. Just like most other 2D shooters, Sine Mora is over far too soon. The game only lasts an hour, though most players will have to go through it multiple times in order to complete the storyline. The developers have added a few incentives for replay, including the ability to mix and match your characters and weapons before playing these stages again. You can also check out the higher difficulties, which takes the game from being merely challenging to hair-pulling frustrating. The game also rewards players for trying out every combination on every level, just in case you wanted to spend a long time earning achievement points.
Although this style of shooter used to be a dime a dozen, Sine Mora benefits from being one of the few brand new shoot-em-ups on the Xbox Live Arcade. Even with its fresh ideas and compelling storyline, this is a fairly straightforward action game that isn't all that different from countless other shooters from the 1990s. Thankfully we don't live in the 1990s and Sine Mora can get the recognition it deserves.