Once you've played a fair bit of each of those modes, Bejeweled 3 unlocks four more modes that you can select at any time. Up first is Poker Mode, a variation on a mini-game found in the Quest Mode. This works a lot like a regular game of poker, only this time around you're earning cards based on matching gems. Extra points are made for matching special items, going for the same colors and that sort of thing, giving players a reason to think ahead with each move. The score is added up at the end and you move on to the next challenge.
For those looking for something a bit more action-packed, Ice Storm Mode will have you pulling your hair out. In this unique mode you fight large icicles that threaten each of your eight columns. They slowly make their way to the top of the puzzle, forcing you to match gems on the affected columns to combat their growth. This quickly becomes an overwhelming fight for your life.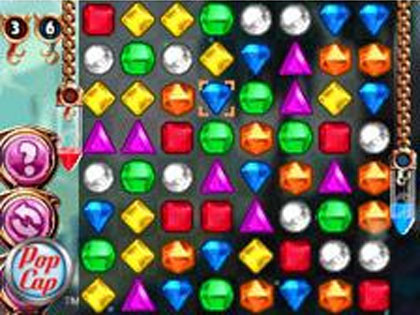 Much like the Poker Mode, Butterflies Mode is a fleshed out version of a mini-game found on your quest. Here you will have to match butterflies to earn a high score. But don't think it's that simple, because you are always in fear of fiendish spiders trying to get in your way. The final mode is called Diamond Mine Mode and involves you locating hidden treasures for big points. This too is part of the Quest Mode package, though.
These four variations aren't nearly as involving as the starting modes, but they help round out a solid collection of short attention span games. Players can earn high scores and batches from these different modes, though I suspect most players will stick with Classic or Lightning. You get all this for twenty dollars, which seems like a fair price even if you already own multiple versions of Bejeweled.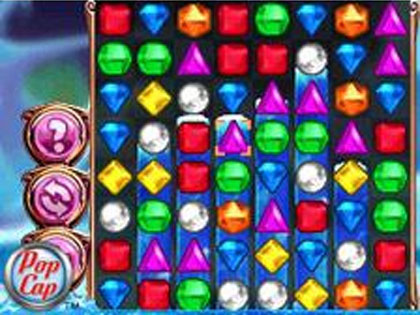 The game plays exactly how you would expect, employing a simple touch screen approach. Gamers are also able to use the D-pad and face buttons to manipulate the board, though it's certainly easier with a stylus. The presentation is a step down from the PC and Xbox 360 release, though I doubt anybody will have a problem with the simplified graphics. The only thing it's missing is a role-playing game mode, but I guess that's what Puzzle Quest: Challenge of the Warlords is for.
Bejeweled 3 doesn't attempt to reinvent the franchise, instead focusing on fun variations on the theme. While some modes aren't worth more than a play or two, there is certainly enough content here to warrant the twenty dollar asking price. As good of a fit as this is on the Nintendo DS, I can't help but wonder what PopCap will be able to do with the Nintendo 3DS hardware.