The truth is, your partners have plenty of reasons to doubt your actions. You'll spend a lot of your time trying to keep them busy while you tamper with evidence. Picking up hidden objects without being scene is the best way to earn experience points. These points are used to determine what kind of guns you'll choose from. These aren't the deepest RPG elements, but at this point I'll take what I can get.
A big problem with Call of Juarez: The Cartel is that the hardware isn't able to keep up. Every so often the game will freeze for a split-second. There's no warning, it just freezes the player for a very short amount of time. Unfortunately, it doesn't freeze anybody else. While it may not sound like a long time, that split-second is enough for an enemy to get the jump on you. This happened to me all the time. I would be right in the middle of a firefight and, out of the blue, the game would freeze for a split-second. Even if I didn't die every time, this performance issue definitely made the game a lot more challenging.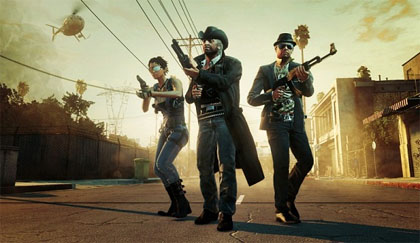 The game also insists on shoving the game full of driving sequences. Just about every mission has you in one form of a car chase or another. If you're playing with computer- controlled partners, then you will always be the one driving. The driving mechanics are simple enough, but the car's handling is all over the place. Worse yet, one wrong turn and you'll have to start the whole section over again. Like everything else in the game, the driving portions go on far too long.
If you're playing with friends, then chances are you'll be hanging out of the passenger window shoot at enemy cars. At this point it's essentially an on-rails shooter, which is marginally more fun than actually driving the car. Either way, you're stuck shooting imprecise guns at moving cars. This is definitely not the highlight of Call of Juarez: The Cartel.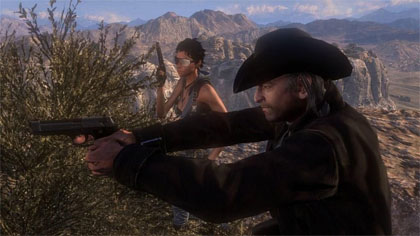 Sadly, we haven't even touched the surface of what this game does wrong. Beyond the technical problems and incessant driving segments, you'll find a whole host of other unacceptable inconveniences. For example, your player will get phone calls at the worst possible times. What makes this extra infuriating is how these lengthy phone calls prevent you from doing anything else. This is especially bad when you get a call in the middle of a fist fight or while you're driving. The fact that you can't push the ignore button is unacceptable in this day and age.
I also found that it was a little too easy to accidentally stumble out of bounds, which inexplicably kills you right on the spot. This was even more frustrating when driving. Too often I would take a wrong turn and have to start the whole segment over again. If this happened once or twice that would be one thing, but it happened to me constantly (sometimes in the same mission).