L.A. Noire
Although the game defaults to color, I implore you to take a few seconds and push the black and white button. This option not only sucks the unnecessary color out of the picture, but also adds a filter that heightens the contrast. In black and white the game resembles the movies and TV shows L.A. Noire is so clearly inspired by. What's more, it actually makes the character models and animations look better. It's not that the title looks bad using the default color scheme, however in black and white the whole thing feel otherworldly.
Beyond the impressive facial animations, I was blown away by the quality of acting. This isn't one of those games where there are only a few great actors; every single person does a stellar job. It doesn't hurt that the game employs half the cast of Mad Men, one of television's best dramas. Other notable stars include Greg Grunberg (Heroes), John Noble (Fringe) and Patrick Fischler (Lost) stealing the show as real-life gangster Mickey Cohen.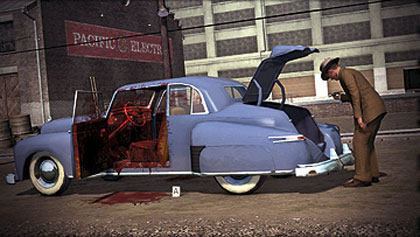 There is no perfect game and L.A. Noire is no exception. There are a few minor graphical glitches that pop-up from time to time ... literally. Like many sandbox games, some textures can lag behind the action. Every so often you'll see a large object appear out of nowhere, something GTA and Red Dead Redemption fans know all too well. I found that this was diminished some when I installed the game to the hard drive. There's also a recent patch that addresses a few of the graphical imperfections. While I definitely saw problems, I am happy to report that this is the Rockstar Games' least buggy sandbox game. None of the minor graphical problems hurt the overall experience.
The game feels a lot like other recent Rockstar Games titles, which is largely a good thing. As was the case with last year's Red Dead Redemption, it feels like there's some weight to the character. Cole doesn't turn on a dime, instead he moves around the screen realistically. He's also slower than most video game characters, even while in full sprint. And even though the cars are from the 1940s, I had no problem racing around the streets as if they had modern day tuning and suspension. If you hated the way Grand Theft Auto IV felt, then chances are L.A. Noire won't win you over.
Even if you never bother driving around the city goofing off, there's a solid 25 hours of gameplay to be had. I beat the 21 cases in around 20 hours and spent the next five mopping up the petty street crimes. The game has a surprising amount of replay value, since many players will want to see what other story branches they can experience in each case. The game ends in such a way that a second play through is almost required. Either way, you're getting a lot of game for $60.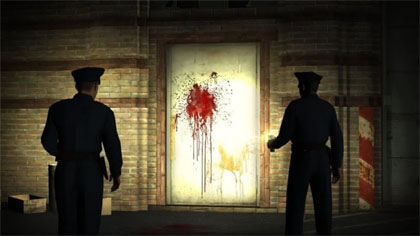 Best of all, you're getting an intelligent game that never once talks down to you. After it teaches you the basics, the training wheels come off and it's up to you to figure out what to do next. The game refuses to hold your hand, instead opting for audio cues and visual markers to get the point across. In GTA games there will be a dot telling you where to go at all time, but here you'll need to pay attention to your surroundings. Just finding what apartment door to knock on requires you to either ask somebody or check the mailboxes, the kinds of realistic things a real 1947 police officer would do. The game was confident that I would eventually get it, and I found that especially refreshing.
L.A. Noire is unlike anything I've ever played before. Sure it takes elements from other games (Grand Theft Auto, Phoenix Wright, etc.), but never before has a title managed to combine these things into something on this scale. It's hard to believe that somebody would spend seven years making what amounts to a graphic adventure, but I certainly appreciate the job Team Bondi put in. I have a hunch that L.A. Noire is going to be an incredibly influential game moving forward.