Wolverine:
It turns out that the star of every X-Men movie knows a thing or two about pinball tables. This diverse pinball machine is heavy on combat, which is perfect for this violent superhero. Several popular villains sit at the top of the table, patiently waiting for you to make your move. This board is good at giving the player something to shoot for, all while offering a number of cool hidden doors. Since most of the action happens on the sides, there's a wide open center that keeps this table interesting. Wolverine is a great beginner table, since it eases the player into defeating bosses and achieving the various goals. And like all of the boards in this pack, Wolverine has a surprising amount of depth, something that is not immediately apparent.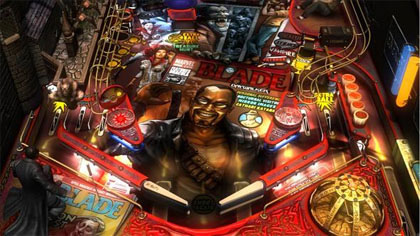 Blade:
His movies may not be a big deal anymore and I can't even remember the last time he starred in a video game, but Blade is the winner in this Marvel pack. His table is a mix of gothic architecture and comic book panels. However, it's not the look of the table that matters. The reason this table is so compelling is because there's a day/night cycle that manages to impact the gameplay in a number of exciting ways. For one thing, the goals and bonuses you shoot for are different from day to night, constantly forcing you to pay attention and plan. I was initially turned off by the comic book covers that adorn the table, but the fact that I was able to ignore them is a testament to how much fun Blade's board is. This is one of the few tables in Pinball FX 2 that doesn't feel a little too cramped; there's more than enough room to set up a number of crushing blows against the darkness ... or whoever it is that Blade battles.
Despite their colorful designs and super villains hanging out, these Marvel pinball tables are no different from the standard Pinball FX 2 levels. Each superhero has its own batch of awards to earn, usually unlocked by racking up points and going head to head against the dreaded bosses. These goals are tied to your achievements, adding another 200 points to the mix. On top of single-player awards, each table tracks your high scores and compares them to your friends. It's a great way to simultaneously feel good AND bad about your high scores.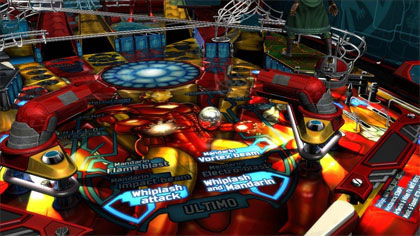 No matter whether you're new to Pinball FX or somebody just trying to improve your super score, this Marvel pack is extremely easy to get into. Each trigger controls a flipper and the right analog stick allows players to tilt the table. Outside of choosing the camera angle and flipping through high scores, there isn't much of a learning curve. But don't get too cocky, just because you think you know a thing or two bout pinball, that doesn't mean you're going to be ranked number one. I learned that lesson the hard way.
It turns out that the Marvel superheroes and pinball is a perfect pairing. It turns out that the combination of super powers and exciting villains was the one thing Zen Studios could do to set themselves apart from the competition. If this was an arcade and my Xbox 360 was powered exclusively by quarters, I would have easily spent over $100 on these tables. Thankfully this superhero-inspired pack is only ten dollars and my Xbox 360 isn't powered by quarters. Whew, dodged a bullet there.