Don't want to play a set list of songs you don't like? Tough! Because players won't be able to progress if they go against the icon. There is no legitimate reason for this structure, it's a restriction placed to force gamers to replay songs they normally would avoid. It's baffling that a company could look at the competition and think that Power Gig's story mode would cut it.
Things start looking up when it comes to Power Gig's soundtrack. The game features a nice mix of indie favorites (Surfer Blood, Silversun Pickups), heavy metal (Ozzy Osbourne, P.O.D.), pop (Paramore, Snow Patrol) and more. I was happy to see strong selections from Superdrag, Smashing Pumpkins, Queens of the Stone Age, Stevie Ray Vaughan, Flyleaf and The Black Keys. In total there are 70 master recordings, an impressive line-up by any standard.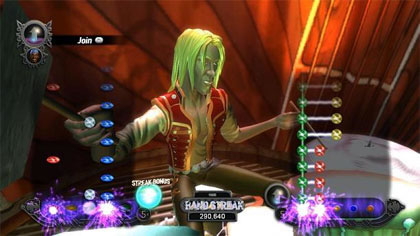 Along with the standard music game fare, Power Gig sports three impressive exclusives. The first is Kid Rock, which offers up "All Summer Long," "Rock n Roll Jesus" and "Son of Detroit." If Kid Rock isn't your thing, then maybe you'll be impressed with the three Eric Clapton songs: "Lay Down Sally," "Layla" and "Let it Rain." And finally, the Dave Matthews Band are ready to make their music game debut with "Funny the Way It Is," "Tripping Billies" and "Why I Am."
I'll confess, these three exclusives don't do much for me. Eric Clapton is a fantastic guitarist, but these aren't his best songs. It's worth noting that Power Gig also offers three songs by John Mayer, which also marks his music game debut. Not to be unfair to Seven 45 Studios, but this game loses points for making me sit through that much John Mayer.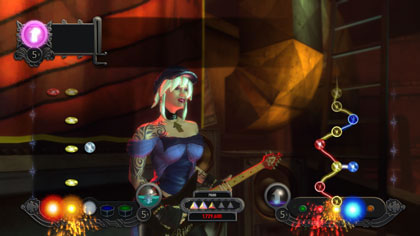 At some point we have to acknowledge that Rock Band 3 is currently sitting on store shelves. If Power Gig was the only game in town then we would be having a very different discussion, but that's certainly not the case. Right now there's a game that will teach you how to play the guitar. And not just that, but it will teach you the keyboards and drums. It offers 2,000 additional songs to download to improve your experience and even allows seven people to play at once. It out plays Power Gig in every conceivable way. It may not come with a real guitar (that's extra), but Rock Band 3 won't let you down.
I feel bad for Power Gig. It had some good ideas that should have set the genre on fire. But we live in a world where Rock Band 3 exists. With its terrible story mode, confusing charting, unresponsive guitar and weird air drums, Power Gig is impossible to recommend. It may have a solid line-up of music, but you're better off spending your money on a full-sized guitar and teaching yourself to rock. It beats the heck out of listening to John Mayer for the 100th time.